Today is the first day of fall.  Where does the time go?  It is finally starting to cool off in Atlanta. Kids are wearing sweaters at the bus stop.  Sandals have been (reluctantly) relegated to the back of the closet.  Mums and pansies are  in force at the garden centers.  In the food blog world,  it means you'll be seeing a flurry of pumpkin recipes.  So, here's one of mine.  It's a twist on traditional pumpkin bread.  It calls for ground ginger in the batter and crushed crystalized ginger on the glaze. I first made this last year and my guinea pigs  friends declared it a keeper.  The recipe makes two loaves, so you can enjoy one now and freeze the other to serve at Thanksgiving!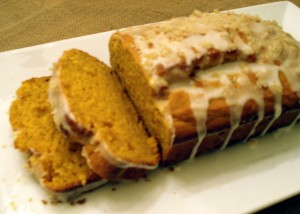 Ginger Pumpkin Bread (makes 2 loaves)
Ingredients:
12 Tblsp  unsalted butter, melted, plus room temperature butter for preparing the pans
2 1/2 cups all purpose flour, plus more for preparing the pans
2 tsp baking powder
2 tsp ground ginger
1 tsp salt
1 cup sugar
1 cup light brown sugar
1 – 15 oz can pumpkin puree
3 large eggs
sugar glaze (optional)
Instructions:
Preheat oven to 375 degrees F. Butter and flour two 8 1/2 x 4 1/2 loaf pans.
In large bowl, whisk the flour, baking powder, ginger and salt. Set aside.
In a separate bowl mix the sugars, pumpkin, butter and eggs.
Add the dry ingredients to the pumpkin mixture and stir until combined.
Divide the batter between the two prepared loaf pans.
Bake 50 minutes and test with a toothpick.
Let  loaves cool for 10 minutes . Invert the pans and transfer loaves to a wire rack to cool.
Glaze if desired. Let glaze dry for 15 minutes before serving.
Glaze: Mix 1 1/2 cups confectioners sugar with 2 to 3 Tblsp water until smooth.  Drizzle over the cooled loaves. Sprinkle with crushed crystalized ginger.  (Hint: For easier cleanup, put parchment or wax paper under the loaves before drizzling the glaze!)