Where does the time go- it's already mid August!  It hasn't felt like August here in Atlanta.  We've had, what feels like, rain for a month and temperatures have barely skirted 90. (Yes, I'm grateful!!)  So it may not be sweltering, but it's still the perfect time of the year for Ginger Peach Frozen Yogurt.  This was my first attempt at frozen yogurt so I went to my go-to ice cream book – The Perfect Scoop by David Lebovitz, to get an idea of quantities to use.  Lo and behold, he had a peach frozen yogurt recipe.  All I had to do was add the ginger – and what an addition!  Love that ginger and peach zing!!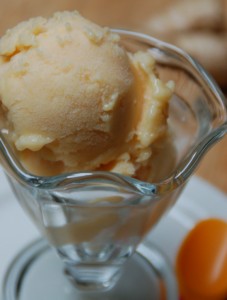 Ginger Peach Frozen Yogurt
Ingredients
5 large peaches - peeled, and sliced
1 inch peeled ginger, small diced
1/2 cup water
1 cup plain yogurt, whole milk if possible
lemon juice
Instructions
Cook the peaches, ginger and water over medium heat, covered, until peaches are soft - about 10 minutes.
Remove the peach mixture from the heat, stir in sugar and chill in the refrigerator.
Puree the cooled peach mixture in a blender or food processor with the yogurt.
Add a few drops of lemon juice.
Freeze the peach mixture in your ice cream maker, per instructions.
Notes
based on a recipe by David Lebovitz
http://ascrumptiouslife.com/ginger-peach-frozen-yogurt/