As summer  heats up, I'm always looking for no-cook ideas.  Who wants to heat up a kitchen, when its already 90+ degrees outside!  Gazpacho is a fresh, healthy and delicious way to beat the heat.  I also love it because there are so many different, and fun, ways to serve it. So what is gazpacho ?  Traditionally, gazpacho is a tomato based cold summer soup.  Although , there are other fruit based versions, many using watermelon.
This recipe is a pureed gazpacho.  I know, I know, some of you like a chunky gazpacho – feel free to hand chop or process the veggies sparingly, if you like.  This classic recipe combines cucumber, tomatoes, onion, garlic, red pepper and tomato juice.  I also add a little lemon juice, for an extra fresh taste.  What a wonderful way to take advantage of the bounty of your garden ( or your local farmers market).  I like to make a large batch and freeze it so I have some at the ready.
Here are three ways to serve gazpacho:
1) In a bowl (duh!) .  If you like, garnish each serving with some sour cream, chopped cilantro or a spoonful of the veggies, finely diced.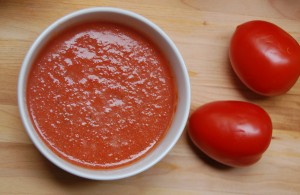 2) In a cup – perfect for Outdoor Concerts or picnics – transport the gazpacho in a thermos,  no cutlery needed – just sip your soup.  I like to garnish the cups with a lemon, just like a drink.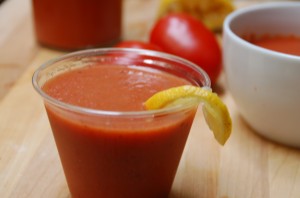 3) Gazpacho shooters – a cute idea for a party!  Use your favorite hot or liqueur glasses,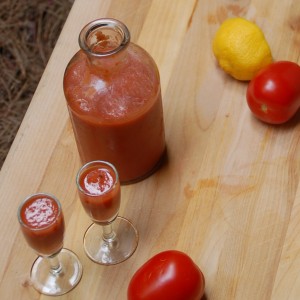 The last two ideas are exactly why I like to puree the gazpacho – no splattering from a  big chunk of tomato when you're sipping the soup.   Any way you serve it,  it's delicious and refreshing.
Ingredients
1/2 english cucumber, de-seeded and chopped
2 large roma tomatoes, diced
1 red pepper, diced
1/4 red onion, chopped
1 garlic clove, minced
1 1/2 cups tomato juice
Juice from 1/2 lemon
1 tsp salt
1 tsp pepper
Instructions
Place all the vegetables and the garlic in a blender and puree until smooth.
Place the puree in a container. Add the tomato juice, lemon juice and salt & pepper. Stir to combine.
Chill until served or freeze.
Notes
Can be served in a bowl, glass or as shooters. Optional garnishes - sour cream, lemon, additional finely diced veggies.
http://ascrumptiouslife.com/gazpacho/