It's not fudge and it's not cake, but it's delicious.  Fudgecake is a British no bake chocolatey treat that is experiencing a resurgence because it's a favorite of Prince William. In fact, it was fashioned into a grooms's cake for his wedding. It's rich – so a little piece is all you need. What a great gift idea for the chocoholic in your life.
It's made with two very British ingredients – digestive biscuits and golden syrup. Digestive biscuits, often made by McVities, are a wheat based cookie. I like them because they are not too sweet – perfect with a cup of tea. They are available plain and chocolate covered. Lyle's Golden Syrup is an amber sugar syrup, similar to honey. My mom loves to add a spoonful to her cream of wheat in the winter. Don't let these "unusual" ingredients deter you from trying this recipe. Many grocery stores now have a British shelf, so you might find them there. Cost Plus World Market is also a good source.  If you can't find the syrup, feel free to substitute honey.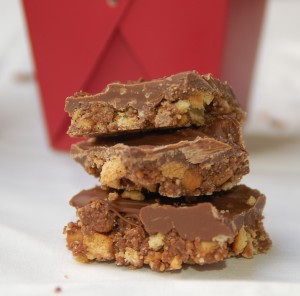 British Fudgecake (makes an 8×8 pan)
Ingredients:
10 digestive biscuits (cookies)
1 1/2 Tblsp unsalted butter
1 – 11.5 bag milk chocolate chips
1 Tblsp golden syrup
1/4 tsp vanilla
Instructions:
 Line the bottom and sides of a 8×8 inch pan with wax paper.
 Put the cookies into a large plastic bag. Seal the bag and crush the cookies using a rolling pin. Do not crush into a powder, leave some small pieces.
Place the butter and 1/2 the chocolate chips in a medium bowl and melt in the microwave, in 20 second increments, stirring after each session.
Add the syrup and vanilla and stir until blended.
Add the biscuit pieces and stir to blend.
Pat the mixture into the pan and refrigerate to set.
Melt the remaining chocolate chips and spread over the cooled biscuit mixture.
Return the pan to the refrigerator to set.
Remove the fudgecake from the pan and cut into small pieces.