I had wanted to make this recipe for Fried Green Tomatoes for years.  I finally succeeded a few weeks ago.  As expected, they were delicious.   So I wanted to share it with you, now  that tomatoes are ready at your market.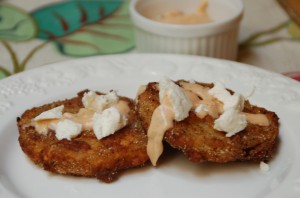 I first saw this recipe from Charleston chef Kevin Callaghan, when reading Garden and Gun magazine, at my hair salon.  I'd even shared it with a friend , who promptly made them and said they were delicious.  Still, it's taken me a long time to make this recipe.  Part of the issue is that green tomatoes continue to ripen.   Several times I tried to make this dish and I'd waited too long and found red, ripened tomatoes in my vegetable bowl.  In fact, this time I let one tomato ripen too much. So, learn from my mistake and buy (or pick) the green tomatoes immediately before making this dish!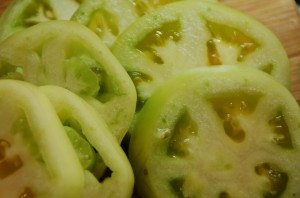 The coating is a two step process of a buttermilk & egg wash and a flour & cornmeal dredge. The result is a wonderfully crispy coating that doesn't take over the dish.  To serve, I topped the tomatoes with crumbled goat cheese and remoulade sauce.  YUM!!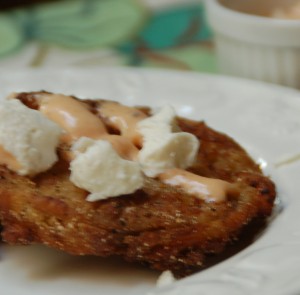 Ingredients
4-6 green tomatoes, sliced thickly
2 cups whole buttermilk
2 large eggs
2 cups self-rising flour
1 cup stone-ground (medium) cornmeal
1/2 tsp garlic powder
1/2 tsp onion powder
Pinch of salt and pepper
2 cups canola oil
2 sticks unsalted butter
Instructions
Place the tomato slices in a colander. Sprinkle lightly with salt and let sit for 5 minutes. Rinse the
tomatoes with cold water and pat dry with paper towels.
While the tomatoes are sitting, make the "wash" and "dredge". Whisk the buttermilk and eggs together in a medium bowl.
In a separate bowl, combine the flour, cornmeal, garlic and onion powders. Season with salt and pepper.
One at a time, coat each tomato slice in the buttermilk wash , then coat completely in the cornmeal dredge, shaking off the excess.
In a cast-iron skillet, heat the oil and butter on high heat to 350 degrees F. (Use a candy thermometer to monitor the heat . You'll want to reduce the heat once it reaches 350 degrees to stabilize the heat.)
Take three tomato slices, fry for 3-4 minutes, flipping once, until lightly golden brown. (Flip away from yourself to avoid splashing hot oil.)
Transfer each batch onto brown paper to drain.
Repeat with remaining tomatoes, in batches of three.
Allow the fried tomatoes to cool slightly before serving. Serve with crumbled goat cheese and remolade sauce.
http://ascrumptiouslife.com/fried-green-tomatoes/