Atlanta's been hit with some bad weather, lately.  We usually don't get snow until February or March – if at all.  In the last three weeks we've had a 'white' Christmas and now a winter storm dumping 5 inches of snow topped with sleet and freezing rain.  With impassable roads, I wasn't going anywhere. It's perfect soup weather and in the past two days I've made enough soup to last until spring !  First, Souper Jenny's Turkey Chili and then another favorite, from the Barefoot Contessa – French Lentil Vegetable Soup.  I made this for the first time last year.  A friend wanted to try a few recipes and I agreed to be her prep chef.  There's alot of chopping here, but the result is well worth it. It's a hearty, healthy, flavorful soup.  This recipe makes about 19 cups of soup, so you'll have lots of quick meals ahead.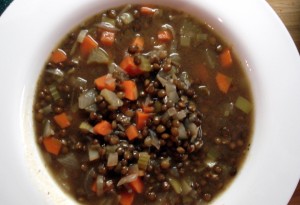 French Lentil Vegetable Soup (makes 8-10 servings)
Ingredients:
1 pound French green lentils

4 cups chopped yellow onions (3 large onions)

4 cups chopped leeks, white part only (2 leeks)

1 tablespoon minced

garlic

(3 cloves)

1/4 cup good olive oil, plus additional for drizzling on top

1 tablespoon

kosher salt

1 1/2 teaspoons freshly ground black pepper

1 tablespoon minced fresh

thyme

leaves or 1 teaspoon dried

1 teaspoon ground

cumin

3 cups medium-diced celery (8 stalks)

3 cups medium-diced carrots (4 to 6 carrots)

3 quarts

chicken stock

 (Substitute vegetable broth to make this truly vegetarian)

1/4 cup tomato paste

2 tablespoons red wine or red wine

vinegar

Freshly grated

Parmesan

cheese
Instructions:
1.        In a large bowl, cover the lentils with boiling water and allow to sit for 15 minutes. Drain.
2.        In a large stockpot on medium heat, saute the onions, leeks, and garlic with the olive oil, salt, pepper, thyme, and cumin for 20 minutes, until the vegetables are translucent and very tender.
3.        Add the celery and carrots and saute for 10 more minutes.
4.        Add the chicken stock, tomato paste, and lentils.
5.        Cover and bring to a boil. Reduce the heat and simmer uncovered for 1 hour, until the lentils are cooked through. Check the seasonings.
6.        Add the red wine and serve hot, drizzled with olive oil and sprinkled with grated Parmesan cheese.