For years I've said " I can't make pastry".  I'm not sure why I was so adamant about my lack of pastry making ability.  I hadn't even tried it that many times.  Well, I can't say it any more.  Over the New Year, I finally tried a recipe my Mom had told me was foolproof and EUREKA !!! – I can make pastry!
It really couldn't be easier.  The results? a nice flaky pastry that works for sweet or savory dishes……  AND one recipe makes three crusts, which freeze beautifully, so you can have a crust at the ready.  If you've thought you can't make pastry – give this recipe a try!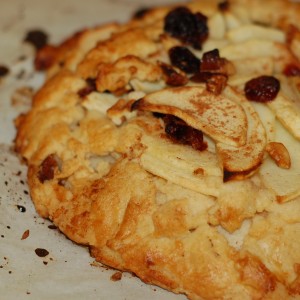 Ingredients
3 cups flour
1/2 tsp salt
1/2 tsp baking powder
1 1/2 cup shortening (butter crisco)
1 egg, beaten
1/2 cup water (scant)
1 tsp white vinegar
Instructions
Combine the flour, salt and baking powder.
Cut the shortening into the dry ingredients. Mixture will resemble a coarse meal.
Add the egg, water and vinegar and mix together. The dough will be soft.
Divide the dough into three parts, wrap well in plastic wrap and refrigerate or freeze.
Frozen dough will keep for several months. To use frozen dough, thaw the dough and roll out to desired shape/size when cold. Use as the pie recipe dictates.
http://ascrumptiouslife.com/foolproof-pastry/