Ok, I confess — I totally stole this idea!   I'd seen it done with peppermints before and then, last year, I saw this from The Cavendar Diary.  btw – if you don't have this site bookmarked you should. They have some great decorating/collecting ideas – even a few recipes.
Beautiful flowers in a Valentines Candy vase.  How fabulous is that!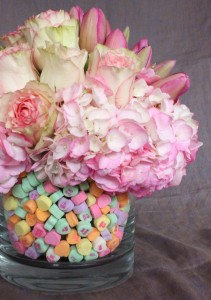 I immediately starting thinking about what other treats and ocassions would work with this concept.  Red Hots or kisses for Valentines, popcorn for an Academy Awards party, cranberries for the holidays, skittles for a birthday party – the ideas are endless.
…….and for Easter?  Why malted easter eggs of course!
Here are my Easter Flowers.  I'm thrilled with how they came out!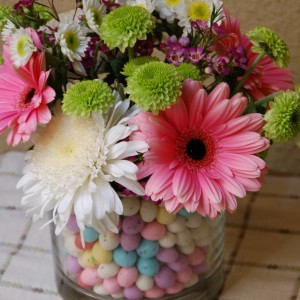 I started out with a low circular vase, put a glass in the middle and filled the space between with mini malted eggs.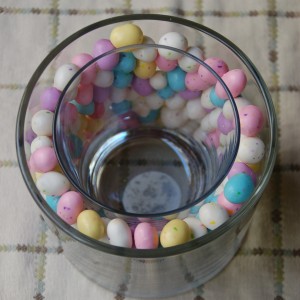 I used a second glass, identical to the 'real' glass to roughly arrange the flowers. I didn't want water splashing all over the candy.  Then, when I was satisfied with the arrangement, I filled the 'real' glass halfway with water and transferred the flowers to it. A bit of tweeking and voila!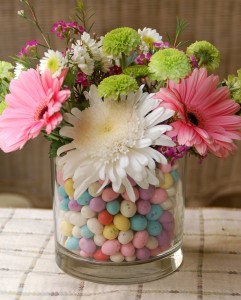 Best of all, this is not expensive.  I bought the vase from Michaels ($3.99), the bouquet of flowers  from Traders Joes ($9.99) and the candy  from Dollar Tree ($2.00).  But we'll keep that our little secret.