From my site stats it appears that many of you like to cook fish. Roasted Salmon and Baked Sole Almondine are two very popular posts here on a scrumptious life.  So here's another easy way to prepare fish – fish en papillote – sounds fancy huh?  It's fish cooked in parchment paper.  It couldn't be easier and your guests will be impressed with its presentation. It's also a great make ahead dish, as the parchment packets can be assembled ahead of time.
To assemble the packets, take a sheet of parchment paper.  Place a fish fillet in the center of the parchment paper. top the fish with veggies, herbs, butter and white wine…. fold up and bake.  It's that easy. Now, you often see instructions to cut the parchment into  a large heart, but I find that the juices can seep out if you don't fold the heart edges exactly.  So, I opted for a simpler parchment packet, with great results. I brought the two long sides up over the fish and folded them together to create a leakproof seam.  Then I folded up the two shorter ends of the parchment and placed the packets seam side up on the baking sheet.
A word about the fish. For this dish a flaky fish is best. Think halibut, cod, sole or flounder, rather than tuna or mahi mahi. For veggies, either use finely julienned carrots, zucchini or veggies that dont' need much cooking time. (So, raw potatoes are not a good choice here.)  In this recipe I've gone Mediterranean with tomatoes, olives and capers.
In the recipe below, I cooked the fish for 12 minutes at 375 degrees F.  But I've seen recipes using varying temperatures – 10 minutes at 400 degrees, 15  minutes at 350 degrees.  So, if you are cooking another dish for this meal, you can very the temperature at which you cook the fish, depending on the temperature you need for your other dish.  That's my kind of multitasking!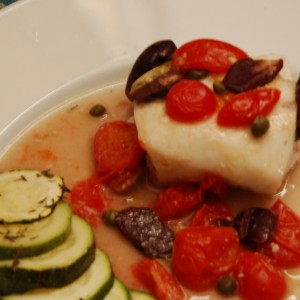 Ingredients
3 fish fillets (4-6 oz each), use a flaky fish such as cod
18 grape tomatoes, halved lengthwise
9 olives, pitted
18 capers
2 tsp butter
6 Tblsp white wine
Instructions
Preheat oven to 375 degrees F.

Prepare Packets

Place a fish fillet in the center of a sheet of parchment paper (approx 11x14 inches)
Top with 6 tomatoes, 3 olives and 6 capers, 1 tsp butter and 2 Tblsp white wine.
Bring up the long sides of the parchment paper and fold down together creating a leakproof seam. Fold the short ends of the parchment paper to seal.
Place the packet on a rimmed baking sheet.
Prepare the other two packets, as above.

Bake for 12 minutes.
Place a packet on each dinner plate and bring to the table, allowing your guests to open the packets themselves. Serve side dishes family style, at the table.
Notes
Other optional cooking temperature/times: 400 degrees F for 10 minutes OR 350 degrees F for 15 minutes
http://ascrumptiouslife.com/fish-cooked-in-parchment/