Today's recipe is my cookie for The Great Food Blogger Cookie Swap. This year I made  Chocolate Hazelnut Krinkle Cookies – a new take on a classic.  Last week I told you the saga about misplacing my  former sister-in-law's recipe for the traditional Chocolate Krinkle Cookies and needing to come up with another recipe.  So I decided to create a nutella based version instead.  My taste tester, who's not usually a cookie fan, loved them!! So, I thought I'd share them with you (and my fbcookie swap matches).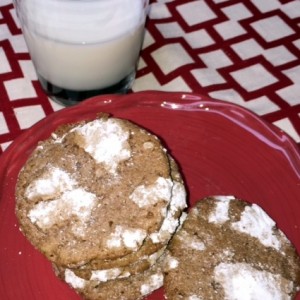 This is the fourth year I've participated in this cookie swap and I look forward to it every year!  Each blogger bakes a new recipe, sends a dozen cookies to three other bloggers and posts their recipe today.  Thanks to Julie  and Lindsay for organizing  the swap. In the next few days they'll be posting links to all the recipes.  Imagine all the work matching up and posting for  over 500 bloggers!!  AND…. its a fund raiser for Cookies for Kid's Cancer.  Thanks to the sponsors OXO, Dixie Crystals, California Olive Ranch, and Brownie Brittle their participation and contributions.
Thanks, also, to Lissa from The Flourishing Baker, Coleen from The Redheaded Baker, and Jess from On Sugar Mountain for their delicious cookies!
Now, some people love a crunchy cookie- others a chewy cookie.  These cookies are a great blend of both – crunchy and chewy. So everyone will enjoy them. The secret to the flavor is the addition of nutella and espresso powder.  I mean  really – what's not to like?!  My batch made 48 cookies, but I did make them a little larger than the traditional cookie.  After all, I was only mailing a dozen and I didn't want to be skimpy.  Because I made larger cookies, I had to increase the baking time to 15 minutes.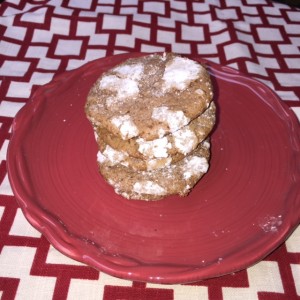 Chocolate Hazelnut Krinkle Cookies
Ingredients
1/2 cup chocolate hazelnut spread (nutella)
1/2 cup shortening (Crisco)
3 eggs
1 1/2 cups granulated sugar
2 tsp vanilla extract
2 cups all-purpose flour
2 Tblsp cocoa powder
2 tsp baking powder
1 tsp espresso powder
1/4 tsp salt
confectioners sugar
2
Instructions
In an electric mixing bowl, cream the chocolate hazelnut and shortening together.
Add the 3 eggs, one at a time and combine.
Add the sugar and vanilla dry combine.
Combine the flour, cocoa powder, baking powder, espresso powder and salt. Add the dry ingredients, in thirds, to the sugar mixture.
Split the dough in half and refrigerate for at least 3 hours (overnight is preferable).
Preheat the oven to 350 degrees F.
Take one half of the dough out of the refrigerator an roll into 1 - 1 1/2 inch balls.
Roll the balls in confectioners sugar and place 2 inches apart on a greased cookie sheet.
Bake 10-15 minutes.
Repeat with the second half of the dough.
Remove from the oven and cool on a wire rack.
Store in an airtight container.
http://ascrumptiouslife.com/fbcookieswap-2014/