It's fall y'all!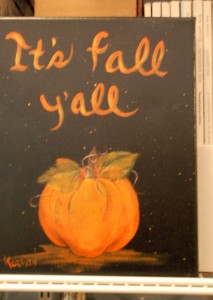 Yes,  it is October . I guess it's finally time to get my "It's Fall Y'all" sign out of the closet and (reluctantly) replace my summer centerpiece bowl full of shells.  Not to worry, I've had an idea of how to decorate this fall, for a few months now.
Last Easter, I shared an idea for flowers, that I totally stole from The Cavender Diary, one of my favorite blogs.  Today, I'm taking the same idea, but using fall flowers and candies.  What candy?  Why candy corn, of course.  Those cute pumpkin candies, would also work,  but they were too wide.  The candy corn fit perfectly and look terrific!
Just take a short wide vase (mine is 5″ wide) and place a glass in the middle of the vase. Fill the space between the vase and glass with candy corn.  Take a separate, matching glass and arrange your flowers in it. (Cut the stems pretty short) Then add some water to the glass in the vase and transfer the flowers…… and (trust me) keep the water away from the candy!  It's a cute casual look that will last all the way through Thanksgiving. (The LOOK lasts, not the fresh flowers.  I refresh the flowers as needed….. I guess you could use faux flowers – hey no judgment – well, maybe a little).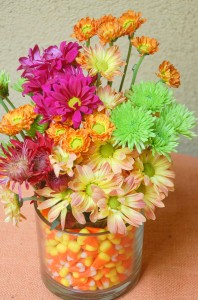 You can present this arrangement on it's own….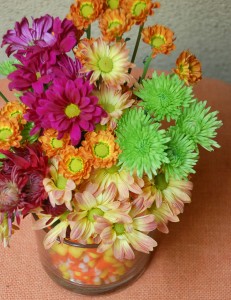 or as part of a fall basket….  I take a variety of pinecones and place them in the basket with the vase of flowers. I like this idea because it's easy to move from table to sideboard to shelf as my mood (or entertaining needs) change.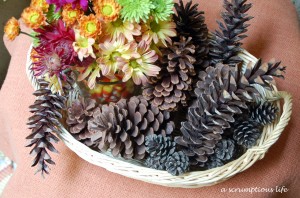 OR on a tray….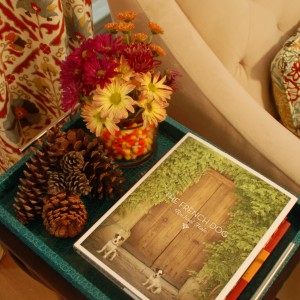 Call me crazy, but I keep pinecones in a plastic bin under my bed.  Over the years, I've found huge, teeny, fat and skinny pinecones, in varying shades, that I think look wonderful together – so textural!  So I keep them from year to year.
Elsewhere, around my condo, I take a planter basket, add a fall napkin, tucked around the basket's liner (to keep the extra fabric tidy), add a mixture of pinecones and voila!  A couple of these around the house and I'm all set for fall.  The best part?  It's free!!