Two weeks ago, I was sick with the crud.  Not the flu (yea!), but a nasty cold, upper respiratory infection – ICK!  Anyway,  few days in I had HAD IT with soup. Fortunately, I had bought a rotisserie chicken (while I was stocking up on my 'sick' supplies) and I had flour tortillas in-house – hmmmm, quesadilla time!
I don't know why I don't think to make quesadillas more often. I mean you can't get much easier !  They're great as a meal in themselves with a salad, or make a BUNCH  to serve as appetizers. You could even have a quesadilla bar for a party – offer bowls of toppings and let your guests make their own (just don't leave the stove unattended, just sayin', after a few margaritas…….).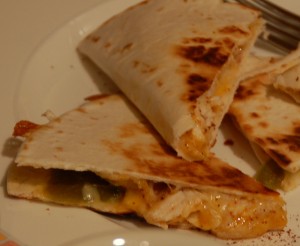 You know this isn't really even a recipe.  I start with a nonstick two handle frypan, I own,  that works perfectly for quesadillas.  A non-stick pan is best if you're making several batches.  I spray the pan with oil spray and turn up the heat to med high.  I don't use high heat because it's such a quick process I don't want the tortillas to burn.  When the pan is hot I put in one flour tortilla and sprinkle grated cheese all over the top. (I usually use a mexican blend or monterey jack). Then, as the cheese melts, I add my other toppings.  This week it was simple – pieces of rotisserie chicken and a sprinkle of chili pepper and cumin.  (Although one meal I used tuna salad – like a tuna  melt – OK that probably doesn't qualify as a quesadilla). Back to the process……  Fold the tortilla in half and press down to "stick' the two halves together. Remove from heat and cut into 4 pieces. Serve with side dishes of salsa, sour cream and guacamole.
As far as toppings are concerned, the possibilities are endless (and talk about a great use of leftovers!) Here are some topping ideas.  The key is to make sure everything is drained well, so your quesadilla wont' be soggy.
Rotisserie Chicken
Ground beef,  browned with some taco seasoning
Grilled Flank Steak
Black beans
Sautéed onions and peppers
Diced tomatoes (off-season, I like canned petite diced)
Taco or tex mex spices
Cilantro
Jalapenos