I don't know if it was the impending icestorm or watching all the Olympics from Russia, but I was in the mood for Hamburger Stroganoff.  This is a comfort food dish from my childhood and it couldn't be easier.
Yes, you could jush it up with sauted mushrooms, but I kept it simple – mostly because I did not want to walk the three 1/4 miles in the foot 2 inches of snow and ice to the grocery store for mushrooms.  It's a stick to your ribs dish that's perfect for these winter nights (will they ever end !!!).
As you can tell from the photo, this dish won't win the gold for presentation, but the flavor makes it a winner.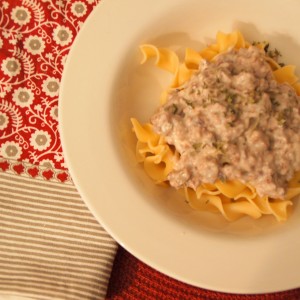 Easy Hamburger Stroganoff
Ingredients
1 Tblsp olive oil
¾ cup onion, diced
1 garlic clove, minced
1 Lb ground beef
1 Tblsp all-purpose flour
1 10 oz can cream of mushroom soup
1/3 cup half and half
½ tsp salt
½ tsp pepper
½ lb egg noodles
½ cup sour cream
parsley for garnish
Instructions
Saute the onion and garlic in the olive oil over medium heat.
Add the ground beef and brown. Drain if necessary
Add the flour and cook for 1 minute.
Add the mushroom soup, half and half and salt & pepper. Stir to combine. Simmer for 10 minutes.
Meanwhile, bring water to a boil and cook the egg noodles until done (approx. 8 minutes).
Take the meat mixture off the heat and stir in the sour cream.
Serve over the noodles.
Garnish with parsley (optional)
http://ascrumptiouslife.com/easy-hamburger-stroganoff/