During the winter I love comfort dishes like soups and stews.  Here's a Duck ragu that's comforting and fancy enough for company. What is a ragu?  It's a meat based sauce that's generally served with pasta.  One of my friends makes it often and I love it. So, I decided to try and make my own.  I was really pleased with the results.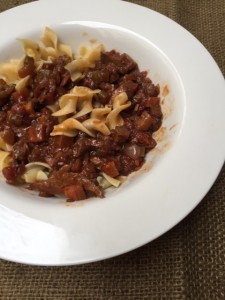 As usual, I looked through several recipes before making my own concoction – but it's largely based on a recipe by Mario Batali.  I used duck breasts, instead of the legs in Mario's recipe.  I bought the duck at Whole Foods, as well as the dried porchini mushrooms.  I nearly had a heart attack at the over $40 per lb price of the mushrooms – luckily you only need a little! But don't skip them, they really add some depth, as does the tomato paste.
A note of caution – since this sauce really cooks down, do NOT season until the very end or your dish will be too salty!
Here's the final product – yum!  I must say, however, it's not the easiest dish to photograph!  So you'll have to take my word on this one – I haven't steered you wrong yet, have I?!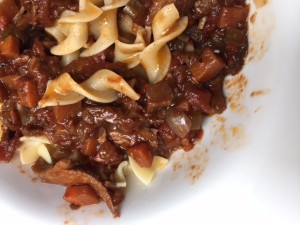 Ingredients
1 Tblsp unsalted butter
1 Tblsp olive oil
1 package duck breast (approx 1 lb)
1/2 large videlia onion, small diced
1 clove garlic, minced
1 large carrot, small diced
1 stalk celery, small diced
2 cups chicken stock
1/2 cup red wine
1-14oz can petite diced tomatoes, drained (retain the juice)
1 1/2 oz dried porcini mushrooms
1 Tblsp tomato paste
1/2 tsp salt
1/2 tsp pepper
Instructions
Heat butter and olive oil in Dutch oven.
Add duck breasts and brown on all sides.
Add the onion, garlic, carrot and celery and cook until softened.
Add the stock, wine, tomatoes and dried mushrooms and bring to a boil.
Return the duck breast to the pot. Lower the heat and simmer, covered for 1 hour.
Remove the duck breast from the heat. Cool and slice or pull the meat.
Return the duck meat to the pot, stir in the tomato paste and simmer uncovered for 25-30 minutes, until the ragu thickens. Add the tomato juice if the ragu gets thicker than desired. Season with salt and pepper.
Serve over pasta.
http://ascrumptiouslife.com/duck-ragu/