I know, I know… not ANOTHER cookie post.  Hold on!  This one is for some very important members of your family, that may be feeling a little neglected while you spend more time on all the holiday goings on. I know Maggie is. She stares at me baking away in the kitchen, from the couch, as if to say " You're STILL baking?  Are you ever coming back here?"  ……   That's right, these cookies are for the dogs – literally.
Bacon, cheese and applesauce, need I say more?  It's the "Country Club" recipe from the "original dog cookie cookbook".  Maggie  has been a very enthusiastic taste tester for these.   Apart from apparently being tasty, they're – well –  they're just so doggone cute!! (I couldn't resist!)  I was going to say they're healthy too, until I remembered they've got bacon in them – but come on, it's Christmas!
Anyway, I use little heart and dogbone cookie cutters to  create these gluten free treats. (See, they're not ALL bad)…. and just like my cookie gifts for humans, they get wrapped up in cello bags as gifts for my friends' dogs.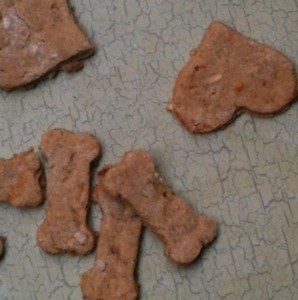 Ingredients
1 cup oat flour
1 cup brown rice flour
½ cup shredded cheddar cheese
½ cup unsweetened applesauce
½ cup rolled oats (not instant)
6 slices bacon, cooked
1 egg
1/3 cup water
Instructions
Preheat oven to 350 degrees F.
Finely grind the cooked bacon in a food processor.
Combine all ingredients and mix thoroughly until a dough forms.
Roll the dough out on a lightly floured surface to ¼ inch thickness.
Cut out shapes using a cookie cutter.
Place the cookies, closely together, on a parchment lined cookie sheet.
Bake for 20-25 minutes, until golden brown.
Remove cookies from oven and cool on a wire rack.
Store in an airtight container in the refrigerator.
http://ascrumptiouslife.com/dog-cookies/