A few months ago a friend called and said she was helping to organize a silent auction. The auction was to support some new parks that have been created in DeKalb County.  Knowing I had offered a Dinner Party as a prize at a women's retreat, we've both attended, she asked if I would donate a dinner party prize for her auction. Well, of course– what a great cause! Who wouldn't to support more greenspace!
After a few weeks, the winners contacted me to claim their prize. We agreed on a date and after perusing the list of options, (almost all of which you can find here on a scrumptious life),  they came up with the following  four course menu: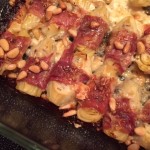 Appetizer – Prosciutto wrapped Artichokes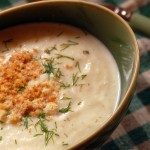 Soup – Roasted Cauliflower soup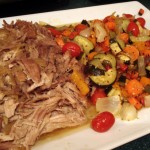 Main Dish – Cuban Pork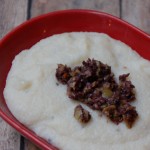 Side Dish – Creamy Polenta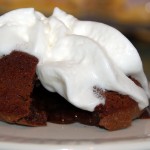 Dessert – Molten Chocolate Cakes
Fun menu huh!
I delivered the food (of course, it was a really bad Atlanta traffic day), making the polenta on site, and providing instructions for the last-minute baking of the molten cakes. I'm happy to say they were thrilled with the meal. So much so, that they wanted to hire me again- alas, I'm not a personal chef.  Hmmmm……Maybe I need to rethink that?!