Life hasn't been so scrumptious lately.
My Dad passed away three weeks ago. 
Dad had Alzheimer's and cancer. We'd known this was coming.  I'd prayed that he wouldn't suffer long and become one of those patients in memory care that just sits, totally unaware of the world around him.  I got my wish.  He knew who I was to the end.  I was the last family member to be with him – I told him I loved him and would see him tomorrow, but if he needed to go , to just go, we'd all be fine.  Two hours later he slipped away on his own – I believe, on his terms. Don't we all hope for that?
The first week after he died was filled with funeral arrangements, errands, emails, text, tweets, phone calls, meals with friends, and writing (and delivering) his eulogy from the family perspective.  Putting my speech together was so cathartic. It gave me a chance to remember all the fun times. Learning to parallel park, when he acted as the bumper of the car behind (I'm still a great parallel parker!) All his golfing escapades – which often involved water.  All our weeks at the beach – Dauphin Island, Alabama……
A fortuitously preplanned trip to the shore, just after the funeral, was a welcome respite.  Stories were shared throughout the trip.  My friend said we were channelling him with all our map reading (Dad LOVED maps).  I ordered the closest thing to an old fashioned on the menu to toast him. (He was not known for his cooking prowess – he made two things well – oatmeal and an old-fashioned.)
Then after two weeks the waves of grief started.  Rushing through with each glimpse of a new photo, finding a dad's day card – I won't get to send, deleting the repeating entry on my phone for "10am –  Sunday with Dad". A couple of years ago, Maggie and I started spending time with him on Sundays, to give my stepmom a break.  I was always happy to do it- but I've appreciated all that time even more, since he passed.  Maggie loved to visit 'grandpa'.  If I even said the word 'grandpa' I'd better mean we were going immediately!
The other day I was looking for a photo on my phone and came across one I'd forgotten I'd taken. It was the last photo I took of him and Maggie.  Maggie is obviously a happy girl – she loved her 'grandpa'.  The feeling was mutual.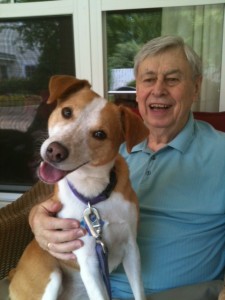 And here's my favorite photo of Dad – he looks like a tropical Michelin man.  It was taken on one of our annual family weeks-at-the beach.  He was gathering up all the beach paraphernalia at the end of the day and decided it was easier to wear all the inner tubes. A reminder that it's ok to be silly, have fun and live life to the fullest —  and that's what I intend to keep doing – living a scrumptious life.    RIP Dad.