Happy New Year !!!
I chose this Curried Squash Soup as my first recipe of 2011 for two reasons:  1) It's a wonderful thick , flavorful soup – perfect for cold January days and 2) since it's thickened by pureeing the squash, rather than by adding cream, it's very low in calories, and who isn't watching their girlish figure after the holidays!
Curried Squash Soup (makes 4 cups)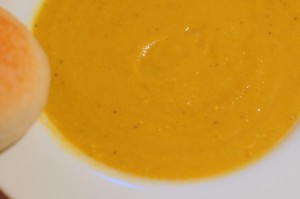 Ingredients:
3/4 cup chopped onions
2 Tablespoons butter or oil
2 teaspoons curry powder
2 cups chicken broth
2 lbs yellow squash, cut into pieces
salt and pepper
Instructions:
Saute the onions in the butter or oil until tender, in a medium sized sauce pan.
Stir in the curry powder and a dash of black pepper.
Add the chicken broth and squash and bring to a boil.
Cook covered until squash is tender , about 20 minutes.
Puree the squash in a blender, in batches.
Return the squash to the sauce pan , season with salt and pepper and heat through.