Cuban Pork is one of my favorite slow cooker dishes.  I shared it years ago as part of a Dinner Party Post, but I thought it deserved a post of it's own. So you (and mostly, I) could find the recipe more easily.  It's not a particularly easy dish to photograph ( as you can see below), but don't let that keep you from making this tasty dish.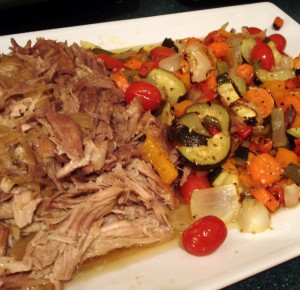 You honestly can't get much easier than this dish. You start with a Pork – Boston Butt (thaw, if previously frozen) and trim off any large fatty portions. Place the pork in a crock pot. Add a sliced Vidalia onion. Pour a bottle of 'Mojo Criollo' marinade over the pork, covering the meat and onion.  Mojo Criollo marinade is a bottled blend of citrus juices and spices.  You can find it in the Latin section of your grocery store.  Plug in the crockpot , turn to high temperature, put the lid on the pot and let it cook for eight hours.  After eight hours pull out the pork – it will be falling off the bone. Separate the pork with two forks, as with pulled pork.  Place the pork on a sheet pan and broil for 5 minutes, so the pork gets a little crispy.  That's it !!! 
In the past, I have served it with roasted vegetables or black beans & rice (which can be a little time consuming). Lately, I've served it with some Creamy Polenta, which takes no time at all to prepare. I make this recipe and add a little pork au jus while cooking.  I like the creaminess of the polenta with the slightly crispness of the pork.  I serve it in a bowl- put some of the creamy polenta on the bottom, then pile on the pork and add a little au jus on top.  I also serve a bowl of the au jus on the side.
Ingredients
1 - 4 to 5 lb pork Boston Butt
1 Vidalia onion, sliced
1 bottle Mojo Criollo marinade
Instructions
Trim any large sections of fat from the pork.
Place the pork a slow cooker.
Add the sliced onion.
Shake then pour a bottle of Mojo Criollo marinade over the Pork.
Cover, turn the slow cooker to high and cook for 8 hours.
Take the pork out of the slow cooker and separate the meat with two forks (like pulled pork).
Place the pulled meat on a sheet pan and broil for 5 minutes, until slightly crispy.
Serve with the au jus on the side.
Notes
Mojo criollo is a garlic citrus marinade found in the latin section of your grocery store.
http://ascrumptiouslife.com/cuban-pork/