I've mentioned before that, if given a choice, I generally go for chocolate, especially brownies.  One exception is creme brulee.  I was looking through my posts recently and couldn't believe I'd never posted about creme brulee.  It may sound intimidating, but honestly, it's not difficult- trust me on this…..  and you still have time to make it for Valentine's Day!
My favorite creme brulee recipe is from The Barefoot Contessa's "Barefoot in Paris".  I love how she describes this dessert – "It's the ultimate guy dessert.  Make it and he'll follow you any where".  Guys… she'll follow you anywhere too!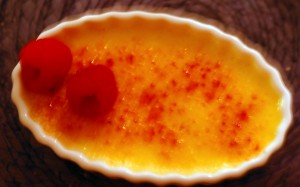 Creme Brulee (makes 5-6 servings)
Ingredients:
1 extra large egg
4 extra large egg yolks
1/2 cup sugar, plus extra for caramelizing the top
3 cups heavy cream
1 tsp pure vanilla extract
1 Tblsp Grand Marnier
Boiling water for cooking
Instructions:
Preheat oven to 300 degrees F.
Mix the egg, egg yolks and sugar in a mixer with a paddle attachment, on low speed, until combined.
Meanwhile, heat the cream in a small saucepan until it's hot, but not boiled. (Too hot and the eggs will cook when mixed with the cream)
With the mixer on low speed, slowly add the cream to the eggs.  (I pour the cream down the side of the bowl).
Stir the vanilla and Grand Marnier into the mixture.
Pour the mixure into 6-8 ounce ramekins – through a sieve. (This will insure the mixture is smooth, that none of the egg mixure got cooked)
Place the ramekins into a baking pan and place on the middle rack of the oven.  Pour boiling water into the pan so the water comes halfway up the ramekins.
Bake for 35-40 minutes, until the custards are set when gently shaken.
Cool to room temperature and refrigerate until firm.
When ready to serve, sprinkle 1 Tblsp of sugar on the top of each ramekin.
Place the ramekins under a broiler (or use a kitchen torch) to caramalize the sugar.
Allow the brulee to sit at room temperature for a few minutes, for the sugar to harden.  Serve.