A couple of weeks ago I was invited to a BBQ and asked to bring coleslaw.  No problem I said… and then realized I did not have a go-to coleslaw recipe!  How was that possible?!  I mean , I cook all the time….. I guess I was never the one asked to bring the coleslaw.  But I'm a FOOD blogger, living in the SOUTH !!  Well, needless to say, the hunt was on for great coleslaw recipes…..
Mayo or not mayo – that is the question, at least when it come to coleslaw… and people are pretty passionate about it!   Since we were having pulled pork – making it a real BBQ vs a cookout, but that's probably a different post…) I wanted to bring a creamy coleslaw.  So I turned to Southern Living.  Their Best Barbeque Coleslaw caught my eye.  Mayo AND buttermilk ??!!  You can't get much more southern than that.  Now, I'm normally a Hellman's girl, but I had some Duke's mayonnaise in the fridge. So, I decided since I was going 'southern', I might as well pull out ALL the stops!
Well, I got lots of compliments on this coleslaw, so I consider it a hit…. and now I can say I have a great go-to coleslaw recipe.  Whew! crisis averted.  I know — high quality problem.
btw – Here's a slow cooker BBQ Pork recipe to go along with the coleslaw, in case, like me,  you dont' have a smoker.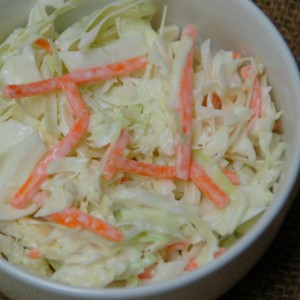 Ingredients
8 cups cabbage, shredded
1 cup shredded carrots

Dressing

2 Tblsp double-strength sugar syrup* (or 1/2 cup sugar)
1/2 tsp salt
1/2 tsp pepper
1 cup mayonnaise ( I used Duke's)
1/2 cup milk
1/2 cup buttermilk
1/3 cup lemon juice
3 Tblsp white vinegar
Instructions
Combine the cabbage and carrots in a large bowl.
Combine the remaining ingredients in a separate bowl and whisk to blend.
Toss the dressing with the cabbage and carrots.
Cover and chill until served - at least 2 hours.
Notes
To make double-strength sugar syrup- heat 1 cup sugar with 1/2 cup water until the sugar melts. Use extra syrup as a base for beverages.
http://ascrumptiouslife.com/creamy-coleslaw/