Last weekend, I received a last-minute invitation to an Easter Potluck.  I decided what I was going to make, put it in the oven and guess what — disaster!!!  Yes I have them too!  I either messed up the temp or the timing…… anyway,  I needed a Plan B, stat! Luckily I always keep cream cheese, crackers and some interesting preserves in my kitchen.  Ahhhh……. plan b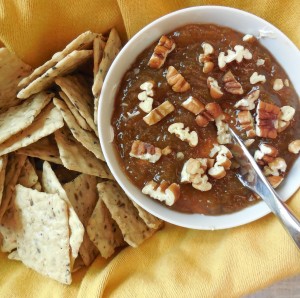 This is so easy it hardly qualifies as a recipe. Take cream cheese (I used 3/4 of a package) and spread it around a 1 cup ramekin.  Spread a layer of Fig Preserves over the cream cheese.  Top it with chopped walnuts or almonds.  Place the ramekin in a napkin lined basket with some crackers and a spreader – Voila!
I found the Fig Preserves at a local farmers market.  Be sure to keep a look out next time you visit a local farm or market and stock up for an emergency.  For other Quick and Easy Appetizer Ideas click here.