It's almost Christmas!  By now you've probably got most of your Christmas meal planned. (Confession: I don't!) Here's a last minute idea for a tasty beverage that's family friendly – Cranberry Punch.  Perfect for a crowd, whether it's family or an open house.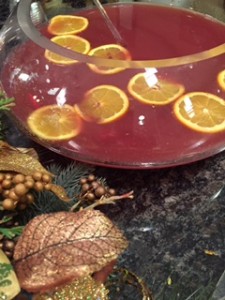 I made this punch last weekend for my church coffee hour and it was a big hit. Using bottled juice can be expense, so I used frozen concentrate for a more affordable option…. and it couldn't  be easier!  Just defrost cranberry, pink lemonade and orange concentrate – add 1 1/4 gallons of water  and add 2 liters ginger ale, right before serving.  I chose to put the whole amount in a punch bowl and garnished it with orange slices – yes, old school, but I think a bowl of punch does make things festive.  You can also serve it in pitchers.  I'm sure some adults wouldn't mind this with a little shot of vodka too.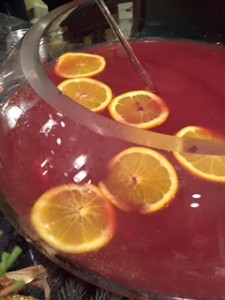 Ingredients
2 - 12 oz cans frozen cranberry juice concentrate, thawed
1 - 12 oz can frozen orange juice concentrate, thawed
1/3 - 12 oz can frozen pink lemonade concentrate, thawed
1 1/4 gallons cold water
1 - 2 ltr bottle ginger ale
1 orange - sliced into rounds
Instructions
Mix the cranberry, orange and lemonade concentrates in a punch bowl and add the water. Stir to combine.
Add the ginger ale, just before serving.
Serve in a punch bowl or pitchers, with orange slices as a garnish.
http://ascrumptiouslife.com/cranberry-punch/