Welcome back to my Thanksgiving 101 series.  So far, we've covered the turkey and the gravy.  Today we tackle the dressing. Dressing – meaning it's cooked separately from the turkey.  I prefer dressing to stuffing for a few reasons – a stuffed turkey takes longer to cook, a  personal preference for crunchier, less soggy dressing and the potential health concerns.
I grew up with a sage dressing , so I'd never made cornbread dressing before.  I do believe I've found a winner!  This recipe is based on a recipe in Southern Living from chef Frank Stitt from Birmingham's famous Highlands Bar and Grill.  The big difference from his original is that  I didn't make homemade cornbread – I used Trader Joe's mix, which is fabulous! One box was enough for this recipe.  What a welcome shortcut, since I'd returned from overseas only three days before Thanksgiving!
This was a big hit. You know it's a hit when your guests try to figure out all the ingredients. The smokiness of the bacon, the nuttiness of the pecans…. scrumptious!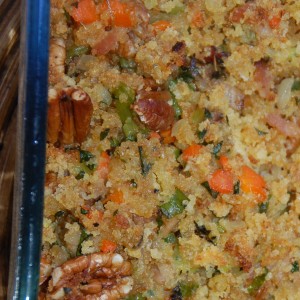 Cornbread Dressing with Bacon and Pecans
Ingredients
1/2 cup pecan halves
4 ounces applewood-smoked bacon, cut into 1/4-inch pieces
1 cup diced onions
1 cup diced carrots
1 cup diced celery
4 scallions, chopped
1 recipe Trader Joe's Cornbread, baked and crumbled
1/4 cup chopped fresh flat-leaf parsley
2 teaspoons chopped fresh thyme
2 teaspoons chopped fresh marjoram
6 tablespoons butter, melted
3/4 cup chicken broth
3/4 teaspoon salt
1/2 teaspoon pepper
Instructions
Preheat oven to 325°.
Bake pecans in a single layer in a shallow pan 10 minutes or until toasted and fragrant, stirring halfway through. Remove from oven.
Increase oven temperature to 375°.
Cook bacon in a Dutch oven over medium heat 5 to 6 minutes. (Do not crisp.) Remove bacon, and drain on paper towels, reserving drippings in Dutch oven.
Sauté diced onion, carrots and celery in hot drippings 8 minutes or until tender. Add in the scallions and sauté for 1 minute. Remove from heat.
Add bacon, cornbread, and the herbs. Stir together melted butter and broth, and stir into cornbread mixture. Add salt and pepper. Fold in pecans.
Spoon dressing into a buttered, shallow 2-qt. baking dish; cover with aluminum foil.
Bake, covered, for 25 minutes. Remove from oven, and uncover.
Transfer oven rack to highest position. Bake dressing, uncovered, 12 minutes or until top is crusty.
http://ascrumptiouslife.com/cornbread-dressing-with-bacon-and-pecans/