Today's recipe is Corn and Red Pepper Soup – featuring the sweet corn that is plentiful right now.  I chose to puree this soup, because, well, I like a smooth soup. The potatoes act as a thickener, so there's no flour in it, making it a gluten free option.  But feel free to leave the soup intact for a chunky chowder.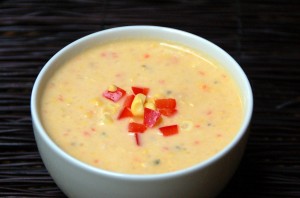 Not only is this a tasty soup on it's own….. it also serves as a great base recipe that can be used to make a variety of soups or chowders.
Just adding a cup of grated cheese, cooked chicken or shrimp during the last simmer or starting the recipe with 4 oz diced bacon before adding the onion and peppers, changes everything!
If you're making this when corn isn't truly in season, use frozen corn and 4 cups of vegetable or chicken broth instead of making the corn broth from corn cobs and water.   I know I'll be making this again over the winter!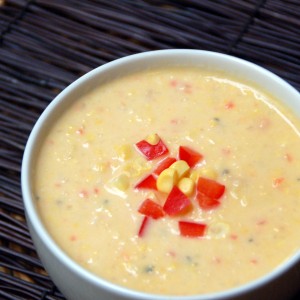 Ingredients
5 corn cobs
4 cups water
1 Tblsp canola oil
1 tsp garlic
1 medium sweet onion, small dice
1 red pepper, small dice
1 tsp salt
1 tsp black pepper
4 sprigs fresh thyme
4 Yukon Gold potatoes, diced
1 cup cream
1/4 tsp cayenne pepper
Corn kernels and diced red pepper for garnish
Instructions
Cut the corn kernels from 5 corn cobs, set aside.
Boil the corn cobs in 4 cups water for 10 minutes.
Pour the stock through a sieve and discard the solids.
In a separate pot heat the oil and saute the garlic, onions and red peppers until the onions are soft - approx. 10 minutes.
Add the corn, thyme, salt and pepper and saute for another 5 minutes.
Add the corn stock and potatoes and bring to a boil for 10 minutes, until the potatoes are cooked (Cutting the potatoes into a small dice will help this along)
Remove the thyme sprigs and puree the solids from the soup and the cream in a blender, in batches. Return the pureed mixture into the pot and add the cayenne pepper.
Reduce the heat and simmer for 10 minutes.
Notes
Options:
Leave the soup intact instead of pureeing. Add the cream and simmer for 10 minutes.
Add 1 cup Monterey cheese, cooked chicken or shrimp to the pureed soup during the last simmer.
Saute 4 oz diced bacon in the oil before adding the garlic onions and red pepper.
http://ascrumptiouslife.com/corn-and-red-pepper-soup/