I was recently invited to a dinner party, to catch up with a good friend who was visiting from out-of-town.  The hostess was roasting a couple of chickens and root veggies and  asked if I'd bring a salad. I decided to make a chopped salad.
A chopped salad isn't much different from a regular salad, except that all the ingredients, including the greens, are chopped into small pieces.  It's the perfect way to serve salad when you don't want to have to deal with a knife and fork – say, a pot luck or when guests will be dining on their lap for small space entertaining.
Now, dicing most of the veggies isn't difficult, but do try to cut them a uniform size.  But how to cut the greens without making a big mess?  I had an ahh ha moment, when I figured this out. Here's how I cut up the romaine hearts and napa cabbage – so easy !!!
For the romaine hearts- cut the open (not root) end  to clean it up, then cut the lettuce several time lengthwise, from the root to the open end. Leave the root intact to keep the lettuce together. Then, cut the heart crosswise – voila! – instant chopped lettuce.  For the Napa cabbage I halved the cabbage lengthwise, through the root, then I repeated the method above with half of the cabbage.
I added halved grape tomatoes, and diced orange peppers, zucchini, havarti cheese and scallions. I topped the salad with assorted olives and a vinaigrette.  Light… colorful…. tasty – I got lots of oohs and aahs on this one.
You can make this a main dish meal by adding diced chicken or italian deli meats, like salami or ham. Get them sliced thick from the deli, so you end up with cubes of meat when you dice them.
I think I may have found my go-to lunch (when the weather warms up!)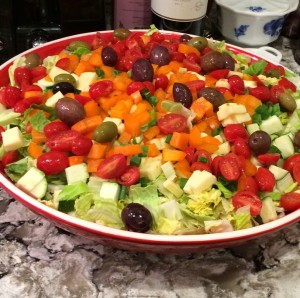 Ingredients
3 romaine hearts
1/2 head napa cabbage (halved lengthwise)
8 oz grape tomatoes, halved lengthwise
1 orange pepper, diced
1 large zucchini, diced
4 oz Havarti cheese, diced
3 scallions, chopped
4 oz assorted olives
Instructions
Cut the romaine hearts and napa cabbage lengthwise (from root to end) then crosswise.
Place the chopped greens into a large salad bowl
Add the remaining ingredients and toss to combine.
Serve with you favorite vinegarette or dressing.
http://ascrumptiouslife.com/chopped-salad/