I must have been hungry went I went grocery shopping last week – did I really need to buy ten zucchini??!! I mean, I live on my own (and Maggie doesn't eat zucchini).  No worries, it was a good excuse to make Chocolate Zucchini Bread and boy, am I glad I did!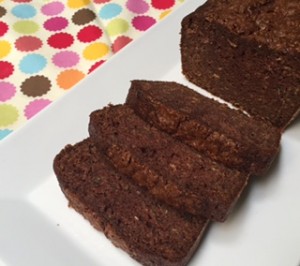 This bread is so moist!  There are so many different flavors going on that you can't quite figure out what it is.  What it is, is delicious.  This recipe makes two loaves so you can serve one and freeze the other.  So if you find yourself with  a bumper crop of zucchini (or just go to the store hungry) I hope you'll give this recipe a try.
Update 7/2015: As well as much better pics, I've updated the recipe a little and decreased the sugar.  It's still tasty and who needs all that extra sugar ? not me!!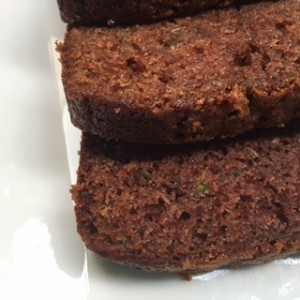 Ingredients
2 cups sugar
1 1/2 cups canola oil
4 eggs
3 cups grated zucchini (can be grated using a processor or box grater)
3 cups flour
1 1/2 tsp baking powder
1 tsp salt
1 1/2 tsp baking soda
1/4 tsp cinnamon
1 - 5 oz box instant chocolate pudding mix
1 1/2 tsp vanlla extract
1 tsp almond extract
1 cup chopped nuts (optional)
Instructions
Preheat oven to 350 degrees F.
Grease and flour 2 loaf pans.
Cream the sugar and oil in a mixing bowl.
Add the eggs and grated zucchini.
Sift the dry ingredients together and add to the zucchini mixture.
Add the vanilla and almond extracts and nuts(optional) and stir to combine.
Pour the batter into the prepared pans.
Bake for 1 hour. Check for doneness by testing with a toothpick, which should come out clean.
Remove from oven and let cool for 15 minutes, then remove loaves from pans and continue cooling on a wire rack.
http://ascrumptiouslife.com/chocolate-zucchini-bread/