Now that Thanksgiving is over, it's time for me to start making Christmas gifts for my friends. I love gifts food gifts for the holidays.  I find that people really appreciate getting something homemade.  One gift I love to give is nuts.  Last year I gave two types of nuts.  This year, I wanted to try a different recipe and saw this one from Ina Garten's barefoot contessa 'how easy is that?'.  It features the heat and smokiness of chipotle powder with the sweetness of orange juice and maple sugar. I bought the chipotle powder at the new Penzey Spices, here in Atlanta.  If there's not a store near you, you can also buy from them online.
My suggestion for the preparation would be to watch these nuts carefully.  While they carmelize due to the brown sugar and maple syrup, mine came close to being over cooked.  I would also really recommend lining the sheet pan with nonstick foil.  It really makes tossing the nuts so much easier – not to mention the cleanup! I also sprayed my spatula with cooking spray so the nuts wouldn't stick to it while tossing.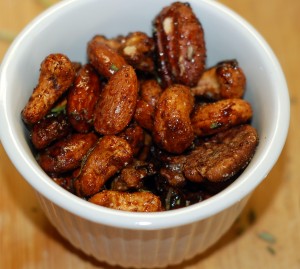 Chipotle and Rosemary Roasted Nuts (serves 8-10)
Ingredients:
Vegetable oil or spray
3 cups whole roasted unsalted cashews (14 oz)
2 cups walnut halves (7 oz)
2 cups pecan halves (7 oz)
1/2 cup whole almonds (3 oz)
2 Tblsp vegetable oil
1/3 cup maple syrup
1/4 cup light brown sugar, lightly packed
3 Tblsp freshly squeezed orange juice
2 tsp ground chipotle powder
4 Tblsp minced rosemary leaves, divided
Kosher salt
Instructions:
Preheat oven to 350 degrees F.
Line a sheet pan with non stick foil and coat lightly with vegetable oil or spray.
Combine the nuts, 2 Tbsp vegetable oil, maple syrup, brown sugar orange juice and chipotle powder on the sheet pan.  Toss to coat the nuts evenly.
Add 2 Tblsp of the rosemary and 2 tsp salt and toss again.
Spread the nuts into one layer.
Roast for 20-25 minutes, stirring twice with a large spatula, until nuts are glazed and golden brown.
Remove nuts from the oven and sprinkelwith the rremainng 2 Tblsp of rosemary and 2 tsp of salt.
Toss well and allow to cool. Toss ever 5 minutes to prevent sticking.
Taste for seasoning.
Serve warm or cool completely and store in an airtight container at room temperature.