July 4th is this weekend. So, I'm sure many of you will be grilling. Instead of using BBQ sauce , how about trying Chimichurri Sauce to perk up your steak or chicken.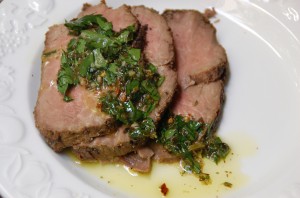 Chimichurri is a mixture of oil, vinegar, garlic and chopped herbs.  Best of all, it takes only seconds to prepare!  This recipe gets it's zing from red wine vinegar.  Feel free to substitute a milder vinegar, if you want a milder sauce.  For this batch, I didn't puree the heck out of the herbs, preferring to see the leaves.  The sauce can also be pureed to a smoother consistancy – your choice.  Serve it alongside or on top of any grilled meat.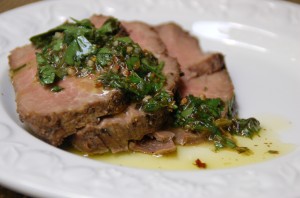 Ingredients
1 cup chopped parsley
3 Tblsp red wine vinegar
2 garlic cloves, minced
1 Tblsp oregano leaves
2 Tblsp cilantro paste
1 tsp red pepper flakes
salt and pepper
1/2 cup olive oil (extra virgin)
Instructions
Put all ingredients except salt and pepper and olive oil in a processor and process until smooth.
Taste, and season with salt and pepper.
Transfer the herb mixture into a bowl and whisk in the olive oil.
Let stand for at least 20 minutes or refrigerate.
Bring to room temperature before serving.
Notes
If you prefer a smoother consistancy, add the oil to the processor after processing the other ingredients, and puree until desired consistancy.
http://ascrumptiouslife.com/chimichurri/