I love slow cooker soups – they're SO easy.  Just put in all the ingredients in the slow cooker, turn it on and go!!  Today's recipe is for a thick and tasty Chicken Rice and Spinach Soup.  Perfect for this winter, that apparently isn't ending anytime soon (especially if you live in Boston!)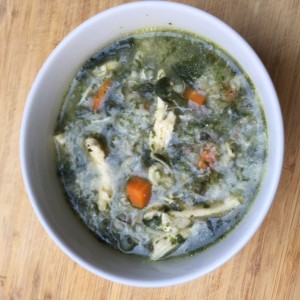 I add onion, celery, carrots, mixed rice, herbs and two large chicken breasts, along with 8 cups of chicken stock, and turned the slow cooker on LOW.  After 5 hours I took out the chicken and, when it was cool enough to work with, shredded the meat with two forks.  I then added the shredded chicken and  thawed & drained chopped spinach back into the slow cooker and cooked for about another 45 minutes. (If you prefer a less overall green color, use fresh spinach leaves)  The result is a flavorful, filling soup you'll want to have on hand through out the winter. So much better than a can, and almost as easy!
Stay Warm Y'all!!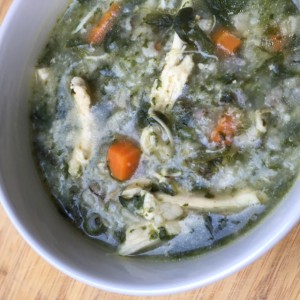 Chicken, Rice and Spinach Soup
Ingredients
2/3 cup chopped onions
2/3 cup chopped carrots
2/3 cup chopped celery
1 cup mixed rice
2 large boneless chicken breasts
1/2 tsp marjoram
1/4 tsp sage
1/4 tsp thyme
1/8 tsp garlic powder
8 cups chicken broth
1 box frozen chopped spinach, defrosted and drained
salt and pepper
Instructions
In a slow cooker, place the onions, carrots, celery and rice.
Lay the chicken breasts on top and sprinkle with the thyme, sage, marjoram, and garlic powder.
Add 8 cups of chicken broth .
Cover the slow cooker and cook on low for 5 hours.
Remove the chicken breasts and shred using two forks when cool enough to handle.
Return the shredded chicken to the slow cooker and add the spinach.
Cook for 45 minutes .
Fix the season and serve.
Notes
You can substitute 1 tsp of poultry seasoning for the herbs mixture.
http://ascrumptiouslife.com/chicken-rice-and-spinach-soup/