Looking for a different main dish for Easter Dinner ? – look no further.  Today's recipe is a redo from a Silver Palate favorite – Chicken Prosciutto Rolls. It's a simple dish, but makes an impression when served sliced – so you can see the spirals of filling. And unlike, when the recipe was originally published, it is now all the easier by buying the thin sliced chicken breasts found readily at your grocery store. This is a great dish for serving  a crowd – it's easy to prepare and bakes at 350degrees so it can share the oven with  your other dishes.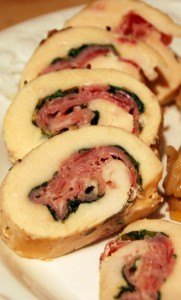 Chicken Prosciutto Rolls (makes 6 rolls)
Ingredients:
2 Tblsp fresh italian parsley, chopped,
1 Tblsp finely chopped scallions
2 tsp dried rosemary
Zest of 1 lemon
6 thin cut chicken breasts
3 slices prosciutto, thinly cut
2 tsp butter
Juice of 1 lemon
1/12 cup dry sherry
6 toothpicks
Instructions:
Preheat oven to 350 degrees, F.
Line a small baking dish with foil (I use the nonstick foil)
Combine the parsley, scallions, rosemary and lemon zest in a small bowl, set aside.
Place a chicken breast on a flat surface, cover with ½ slice or prosciutto and sprinkle with parsley mixture.
Roll-up the chicken breast from a short end and secure with a toothpick.
Place the breasts in the baking  dish and top with a small piece of butter.
Combine the lemon juice and dry sherry.  Pour over the chicken.
Bake for 35 minutes.
Remove the toothpicks and serve the chicken warm as a roll or sliced.
Note: If you don't want to use the sherry, substitute chicken stock.