I can't tell you how long I've had this recipe in my files – let's just say the paper was a light brown.  Newspapers, anyone else remember when these were a major source of recipe ideas?  Anyway, this recipe for Chicken Enchilada Dip comes from Marty's restaurant in Dallas, by way of the Atlanta Journal Constitution.  I thought it might work for you for Super Bowl Sunday, because that's about the only time I can imagine needing 6 cups of dip!  Yep, 6 cups.  Luckily, the recipe is easy enough to scale down. (or use the leftovers for easy quesadillas!)
This cold dip incorporates all your favorite mexican  flavors. I used a food processor because I wanted a smooth consistancy.  If you like a chunkier consistancy, use an electric mixer. For best results make it a day ahead, to allow the flavors time to meld. I like to serve it with blue corn chips for a nice visual contrast.
For other Super Bowl Appetizer Ideas read here and here.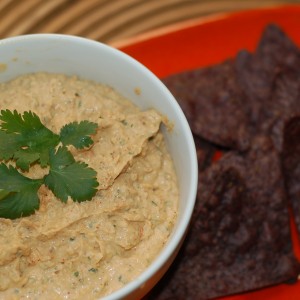 Ingredients
3 boneless chicken breast halves, cooked and shredded
2 (8 ounce) packages light cream cheese, softened
I 1/2 cup grated Cheddar cheese
1 tsp minced garlic
1 1/2 Tblsp chili powder
1 tsp cumin
1 tsp dried oregano
1 tsp paprika
1 tsp cayenne pepper
1 bunch cilantro leaves, chopped
4 scallions, chopped
1 (10 ounce) can diced tomatoes with green chile peppers
Instructions
In a food processor, mix the shredded chicken, light cream cheese, cheese and garlic.
Add the seasonings, cilantro leaves, scallions and diced tomatoes with green chile peppers and process,to desired consistancy.
Cover, and chill overnight
Notes
For a chunkier consistancy use an electric mixer, instead of a food processor.
http://ascrumptiouslife.com/chicken-enchilada-dip-for-the-super-bowl/