It's no secret that I love Fruit Crisps. I've posted a few Crisp recipes over the years….
The classic Apple Crisp,  Peach and Blueberry Crisp (using oatmeal in the topping), Pear and Cranberry Crisp and today – Cherry Crisp.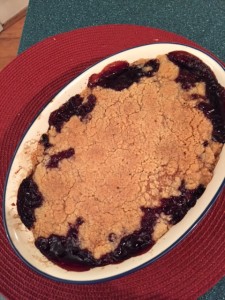 I love cherry pies (actually most things cherry). So, I took the time to de-pit and freeze some cherries in the height of cherry season. (yea me!)  I defrosted them a couple of weeks ago and made this wonderful cherry crisp.  I halved the cherries and added a splash of vanilla (who doesn't like cherry vanilla?!). Then, instead of cinnamon, I added ginger, cardamom and a pinch of black pepper to the crust.  WOW!   It's amazing how just a little tweek of flavor kicks up a classic!  I think this is my new favorite!!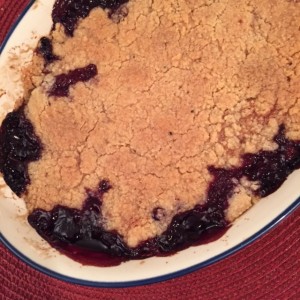 Ingredients
3 cups pitted and halved cherries
1 tsp vanilla extract
1 cup all-purpose flour
1 cup sugar
1 tsp ground ginger
1/4 tsp ground cardamom
dash of black pepper
1 stick cold unsalted butter (1/2 cup), diced
Instructions
Preheat the oven to 350 degrees F.
Put the cherries in a baking dish and sprinkle with the vanilla extract. Toss to coat.
In a food processor, combine the flour, sugar and spices. Add the diced butter and process until the mixture resembles a course meal.
Completely cover the cherries with the topping, sealing at the edges.
Bake for 1 hour.
Cool slightly and serve with whipped cream or ice cream.
http://ascrumptiouslife.com/cherry-crisp/