It's cherry season – Yea!!  Do you get as excited about seeing them at the market as much as I do?!  …. and seemingly unrelated, July 14th is Bastille Day (in France).  So,  it's the perfect time to make one of my favorite desserts – Cherry Clafoutis.  Clafoutis (pronounced kla-FOO- tee) is a classic french dessert that combines baked custard and fruit. You can use other fruit in a clafoutis, such as berries, pears, peaches or plums, but cherries are the classic….. and while I love the sweetness of Ranier Cherries, I prefer less sweet varieties for this recipe.
While it sounds a little la-deed da, this is really an easy, down-to-earth recipe.  The hardest part of this dish is getting the pitts out of the cherries.  For this I recommend a cherry pitter. I'm not usually one for one-use gadgets, but this is an exception.  You can also  use canned cherries that come pitted, but in-season it's worth the effort.  I pitt a big bag of cherries as soon as I see them and then freeze them in 2-cup portions, to have them at the ready.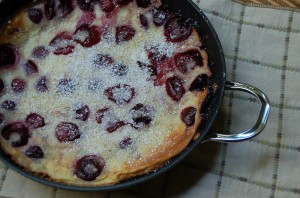 To make clafoutis, you start on the stove by cooking the cherries in butter and sugar, creating a wonderful syrup. You then pour a batter over the fruit and bake for twenty minutes.  Sprinkle with a little confectioners sugar and Voila!!  See – easy and delicious!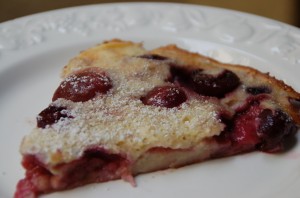 Ingredients
Batter

2 Tblsp sugar
Zest of one lemon
1/2 cup all-purpose flour
1/4 tsp salt
2 eggs
1 cup milk
1 Tblsp confectioners sugar

Cherries

1 Tblsp unsalted butter
12 oz cherries, pitted and halved
2 Tblsp sugar
Instructions
Combine 2 Tblsp sugar and lemon zest in a small bowl. Set aside.
Sift the flour and salt in a large bowl. Set aside.
Whisk the eggs and milk in a separate bowl. Add to the flour/salt mixture in three additions, while whisking. Add the lemon sugar and stir to combine. Let stand.
Preheat oven to 425 degrees F.
In a 10 inch non-stick pan, melt the butter on the stove, over medium heat, making sure to coat the bottom and sides of the pan.
When butter is bubbling, add the cherries and cook, stirring, until cherries are softened and coated.
Sprinkle 2 Tblsp of sugar over the fruit and cook until sugar is dissolved and has turned into a syrup.
Stir the batter and pour over the fruit.
Bake in oven for 20 minutes until golden brown and puffed up at the edges.
Remove from oven and sprinkle with confectioners sugar.
Serve warm or room temperature.
http://ascrumptiouslife.com/cherry-clafoutis/