I love offering a Cheese Board when I entertain – and the best part is how easy it is. No cooking – just shopping!  I usually serve a cheese board as an appetizer, the American way.  In Europe, you're more likely to be served a cheese board after dinner.  It provides a nice relaxing end to the meal, allowing your guests to taste, sip and chat into the night.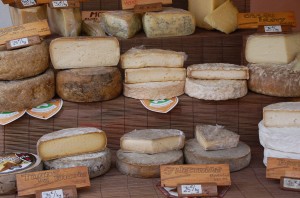 So which cheese should you serve?
Going to a cheese counter can be daunting – so many choices! (Like at this market in Provence, above.)  I find the people at Whole Food's cheese counter very helpful when selecting cheeses.  In Atlanta, the cheese shop at Star Provisions is THE place, especially for local/southern cheeses.  When buying, allow 2-4 oz of cheese per person.  Here are some ideas:
Traditionally, a cheese board offers three cheeses:
One Hard Cheese – Pecorino, Cheddar, Gouda, Gruyère
One Soft Cheese – Brie, Goat Cheese
One Blue Cheese – Gorgonzola, Stilton
Nowadays, however, there are no hard and fast rules for a cheese board. So, feel free to vary your theme. Here are some other options:
 Selection of cheeses from one country
'Tour' several countries with one cheese from each country
 A few different samples of the same cheese (perhaps, in varying ages).
1 cow's milk, 1 sheep's milk and 1 goat's milk cheese  (btw, goat's milk cheese is a good choice if any guests are lactose intolerant.)
Selection of local cheeses
Cheese is best served at room temperature.  So, 30-45 minutes before your party starts, set up the cheese board and  cover the cheese with a slightly damp cloth to avoid drying out the cheese.
So now you've got the cheese – what to serve with it? 
The idea is to complement the cheese, not overpower it. I listed some ideas below.  Whatever you choose, present the accompaniments in groupings (ie: all the olives together, all the figs together etc) near the cheese they should be paired with.  DO NOT scatter them all over the board!  It looks messy and guests won't understand what goes with what.
Olives
Bunch of seedless Grapes
Figs (whole and cut)
Dried Fruit
Sliced Apples or Pears (sliced last-minute and sprinkled with lemon juice, so they don't brown.)
Honey (either drizzled over or on the side)
Prosciutto (alone or wrapped around a thin breadstick)
Sliced French Bread
Nuts – plain, not flavored up
crackers , homemade or store-bought (Offer a separately presented gluten-free cracker for your GF friends)
and to how to serve?
You can find lots of  "cheese boards" in your local gourmet/cookware store.  You know by now, that I prefer multi-tasking kitchen items, so here are a few other ideas.
a large cutting board  (my go-to)
slate tile (look in home improvement/tile stores for large-sized tiles)
a large flat platter
chalkboard paper  (Write on it to label the cheese, or suggest food or wine pairings)
parchment paper  (Inexpensive and another 'write-able' option)
identify the cheeses (Use markers, place cards or write on the "board")
A note about cheese knives.  There are different kinds of cheese knifes, to be used depending on the hardness of the cheese.
Straight ended knives are for hard crumbly cheeses like a blue cheese or Romano.
Pointed knives are for "breaking" a hard cheese, such as Parmesan.
Rounded knives are for soft cheeses
That being said, unless you are serving several cheeses no-where near each other, by the end of a large gathering, the knives will probably be all mixed up.  I find that people just take a knife, any knife for any cheese.  Should you buy special cheese knives? I'll leave that up to you.  Just use common sense and don't use your sharp cutting knives. (Let's leave a visit to the urgent care optional, shall we?!)
and as far as pairing beverages with cheese, well that would be another post for another time…… Enjoy!