A few months ago I shared a recipe for Parmesan Thyme Crackers.  I loved them so much I wanted to try a cracker with cheddar cheese for Thanksgiving.  So I went back Ina for an idea.  I found her Jalapeno Cheddar Cracker recipe, but opted out of using the jalapeno, since some in our family don't want anything too spicy. (But, shhhh, I used just a dash of cayenne instead.)  I also sprinkled a little more grated cheddar cheese over the cracker for the last-minute of baking.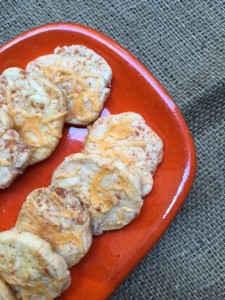 These are great to keep on hand during the holidays – a perfect nibble that great for impromptu company.  You can cut the log into several sections and freeze them – them pull out and defrost one section when you only need a few crackers.  I served them alongside a bowl of mixed olives.  I would also serve them alongside a bowl of soup or a salad.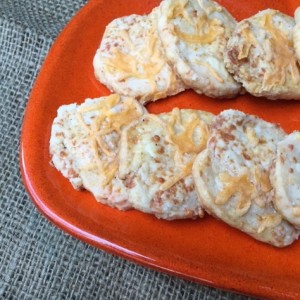 Ingredients
2 cup all-purpose flour
1 tsp kosher salt
1/8 tsp baking powder
14 Tblsp cold unsalted butter, diced
5 oz grated extra sharp cheddar cheese (plus more for garnish)
1/4 tsp chipotle chili powder
dash of cayenne powder
3 Tblsp iced water
1 egg beaten with 1 Tblsp milk
Sea salt
Instructions
Place the flour, kosher salt and baking powder in a food processor fitted with the steel blade. Pulse to mix.
Add the butter and pulse until the mixture resembles coarse meal.
Add the Cheddar, chipotle chili powder and cayenne pepper and pulse again.
With the food processor running, add the ice water all at once. Pulse until the mixture forms a ball.
Put the dough onto a plastic wrap covered surface and roll it into a 14-inch log. Wrap in plastic, and refrigerate for at least 1 hour.
Preheat the oven to 400 degrees F. Line two sheet pan with parchment paper.
Cut the dough in 3/8-inch-thick slices. Place the crackers on the prepared sheet pan, brush with the egg wash and sprinkle with the sea salt.
Bake for 12 to 15 minutes, until golden brown.
If desired, sprinkle additional grated cheese onto each cracker for the last minute of baking.
Serve slightly warm or at room temperature
Notes
Original recipe by Ina Garten. Her recipe added 1 Tblsp minced seeded jalapenos to the dough along with the cheese.
http://ascrumptiouslife.com/cheddar-crackers/