Isn't  it funny how it's Summer one day and Fall the next?  That's how it's been in Atlanta- all of a sudden it's cold in the mornings and I'm contemplating wearing hose to work – ugh -I have NOT succumbed so far.  Was that TMI?
Anyway, cool weather always makes me want to make soup.  I like to make a batch to have at the ready for workday lunches (or lazy quick dinners). Last week I tried a new Carrot with Ginger and Lemon recipe. Well, new to me – it's based on a 1997 Bon Appetit recipe. Not only is it an easy and delicious soup, it's color is amazing! (Especially when served in a white bowl).  This is definitely a contender to start a fall (or Thanksgiving – dare I say that this early) supper.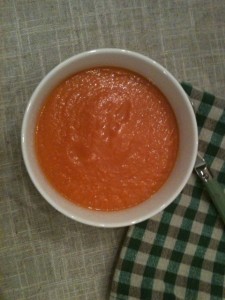 Ingredients
1/4 cup butter
1 1/2 cup sweet onion, chopped
1 Tblsp chopped fresh ginger
1 1/2 tsp minced garlic
1 lb carrots
1 - 14.5 can diced tomatoes, drained
4 cups chicken broth
Juice and zest of 1 lemon
Instructions
Melt the butter in a large heary pot.
Add the onions and saute until soft.
Add the ginger and garlic. Saute for 2 minutes.
Add the carrots, tomatoes and lemon zest. Saute for 1 minutes.
Add the chicken broth and bring to a boil.
Lower the heat and simmer, partially covered, until the carrots are soft- 20 minutes. Cool Slightly.
Spoon the carrot mixture and a litttle broth into a blender and blend until smooth.
Pour the carrot puree back into the broth. Bring to a simmer.
Add the lemon juice and fix seasonings.
Ladle the soup into bowls.
http://ascrumptiouslife.com/carrot-soup/