With the holidays coming up I decided I'd watch my carbs and eat more veggies for the next few weeks.  I find that cutting back on carbs for 1 or 2 meals a day makes a big difference.  So I got out my recipe book and found this recipe.  I hadn't made it in years. Now I'm asking myself, why not??!! The cardamom provides a different flavor that makes you think hmmm… what is that?
This would be a nice addition to your Thanksgiving menu, both for the taste and the color.  It can be made ahead and put in the oven, for a final heating, while the turkey is resting.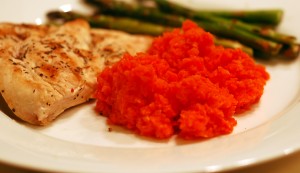 Carrot Puree (serves eight)
Ingredients:
4 lbs carrots, peeled and cut into 1 inch pieces.
1 stick unsalted butter
1 1/2 cups chicken or vegetable broth
1/2 cup fresh orange juice
2 1/2 tsp ground cardamom
1 1/2 tsp salt
1/4 tsp cayenne pepper
Instructions:
Simmer the carrots in water until tender, about 30 minutes.
Drain the carrots and mix with  the other ingredients.
Transfer mixture to a food processor and process to desired smoothness.
Return to a sauce pan and cook over low heat stirring, for 3 minutes OR put in a baking dish , covered with foil, and bake for 25 minutes at 350 degrees F.