This spring, after a few years of indecision, I decided to attend Camp Blogaway.  It sounded great – a small, intimate gathering of food bloggers at a camp in the San Bernadino Mountain sharing tips & tricks of blogging – meeting sponsors, tasting wine – how bad could that be?  Not bad at all! In Fact – pretty terrific!!  You'll see I've named this post my FIRST trip to Camp Blogaway because as Arnold says… "I'll be baack!"
Well, three weeks ago, it was finally time for Camp.It was a whirlwind weekend. I flew into LAX, so I could meet up with a fellow blogger, Dorothy from Heath Glen's Farm and Kitchen and share a ride – a LONG ride from LAX to camp.  It was great getting to know Dorothy, but I'm thinking next time I'm going to fly into Ontario or Palm Springs – Yes, Patti , I know you told me so………  Then I took the redeye back to Atlanta from LAX on Sunday night.  So lessons learned on the travel – fly closer to camp and add a couple of days to the trip.  That wasn't feasible this year, but next year……..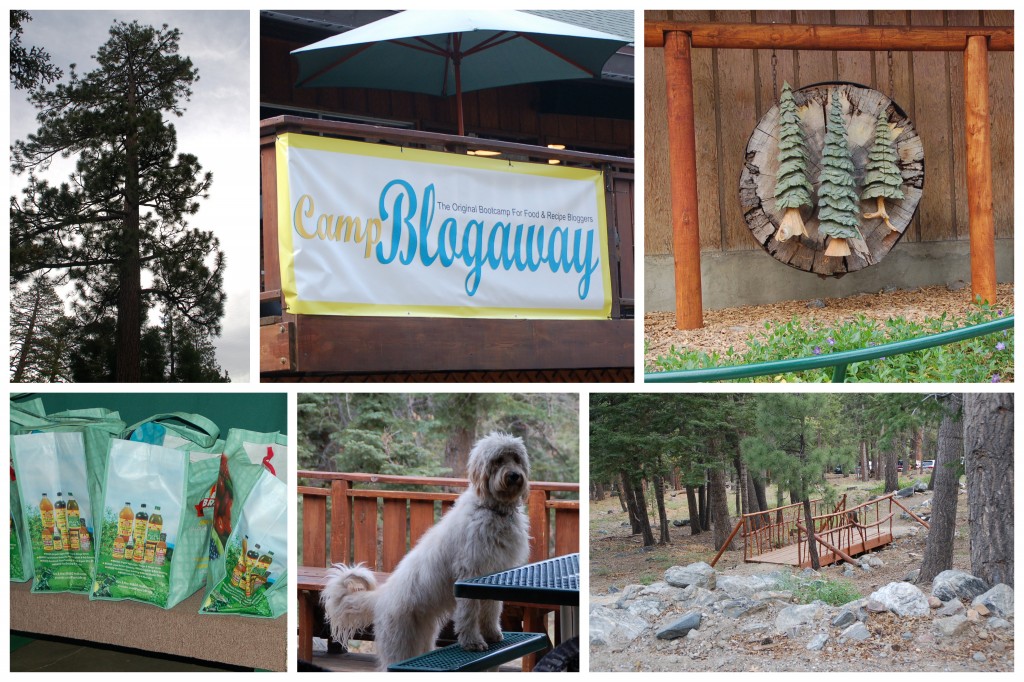 When we arrived, the casual surrounding automatically put me at ease.  Dressing casually didn't hurt either.  Everyone was open and friendly and willing to share, no big competition thing going on- yea!  When I first started blogging,  Jaden from Steamy Kitchen said the food blogging community was that way – welcoming, fun, and sharing.  It was great to see/feel this at Camp Blogaway.  They start Friday evening's session with a quick view of everyone's blog – so everyone feels included and at the same level.  It was quite a diverse group –  hobby bloggers (like me) , professional bloggers, business people with a blog on their company website, PR people, food stylists, journalists, even a couple of wanna be bloggers ( how brave were they!!)
But this was not just a big kumbaya session.  There were things to be learnt here!  A fabulous tutorial on Pinterest, how to improve my food photography/styling – presented in great humor by Denise Vivaldo and Christina Peters.  Did you know there are two types of russet potatoes – one better for baking and one better for frying – me neither – learnt it at Camp Blogaway ! Dorothy Reinhold and Cathy Arkle went through all the blogs and pulled out great editorial and design ideas. (You may see a few changes on a scrumptious life soon, from that session alone.)  Diane Worthington, cookbook author and syndicated columnist shared some valuable thoughts on being authentic and not selling out.   We learned about IACP from its CEO herself, contests,  SEO ??!!, Google +,  …………………Whew !  The topics were all encompassing  and right- on- time for me.
Some big Thank You's to….
Patti Londre– Camp Blogaway's fearless leader.
Sponsors: Potandon, Wente Vineyards, Kerrygold, Wilton, Sabra, and Bragg.
So my advice to other food bloggers…. GO!!! You'll have fun, learn ALOT, meet great people … and listen to Patti about the travel.