I didn't really grow up with meatloaf.  It wasn't a dish my british Mom grew up with, so I actually don't think I ate it until college. Still I know most american's grew up on meatloaf — and sometimes it wasn't very exciting.  Well here's the comfort dish with a twist – Cajun Meatloaf.  With capers, dried tomatoes and jalepenos, it kicks the ordinary up a notch ….. and with ground turkey as the main meat, it's healthy!
I served mine with chive mashed potatoes using yukon gold potatoes.  Instead of topping it with ketchup or tomato sauce, try homemade salsa or warm corn salsa.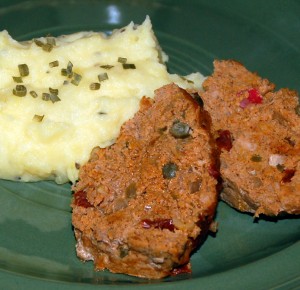 Cajun Meatloaf (makes 1 loaf)
Ingredients:
1 Tblsp canola oil
2 medium onion, chopped
4 garlic cloves, minced
3 Tblsp jalapeno, minced
2 Tblsp sun-dried tomatoes, minced
1/4 cup drained capers
1/3 cup tomato paste
3 tsp chili powder
1 tsp cumin
1/2 tsp cayenne
1/2 lb ground beef
1 1/2 lbs ground turkey
1/2 cup bread crumbs
1/2 cup skim milk
Instructions:
Preheat oven to 350F degrees
Heat oil over medium/low heat. Add garlic and onions and cook until soft.
Transfer to a bowl.
Add the rest of the ingredients and mix with hands.
Form into a loaf and place in a 9 x 4 1/2 x 2 1/2 loaf pan
Bake for 1 1/2 hours.
Rest for 10 minutes before serving.
Notes: If baking this in two smaller loaf pans, reduce cooking time to 45 minutes. This is great served with homemade salsa.
This recipe comes from the 'Great Good Food' cookbook.