This is, apparently, my "Buttermilk Summer".  I can't tell you how many times I've used buttermilk in a recipe lately.  So what to make with leftover buttermilk?  Why, Buttermilk Pie!  This classic southern dessert is a snap to make, especially with the help of a frozen pie crust. It's a rich custardy pie that everyone will love.
This recipe is a great one to keep in your repertoire, because it uses ingredients you have at home – no last-minute trips for a difficult ingredient…. and if you don't have any buttermilk – not to worry. Just combine 1 Tblsp lemon juice and enough milk to make a cup. Stir, wait a few minutes (like three) and voila!
Now my photos show a regular pie crust, because, frankly, that's what I had in the freezer, but the recipe calls for a deep dish pie crust.  Do use the deep dish crust – you won't want to waste any of the delicious custardy filling. I also recommend using a sheet pan on the rack under the pie, to catch any overflow.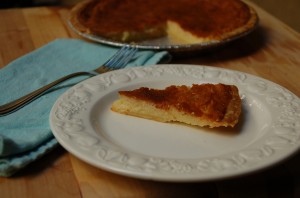 Doesn't this look delicious?! I do hope you'll give this one a try.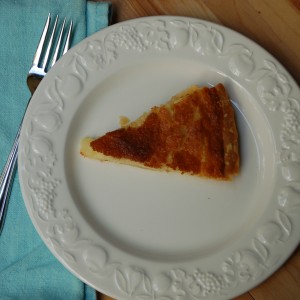 Ingredients
3 eggs
1/2 cup butter, softened
1 1/2 cups sugar
3 Tblsp all-purpose flour
1 cup buttermilk
1 tsp vanilla extract
1 Tblsp lemon juice
1/8 tsp nutmeg
1 - 9 inch frozen deep dish pie crust
Instructions
Preheat oven to 350 degrees F.
In an electric mixer, beat the eggs until frothy.
Add the butter, sugar and flour and beat to combine.
Add the buttermilk, vanilla, lemon juice and nutmeg and stir to combine,
Pour into the frozen crust. Bake for 40-60 minutes, until the center is firm.
Notes
Recipe from allrecipes.com
http://ascrumptiouslife.com/buttermilk-pie/