In January, I finally visited Jeni's Splendid Ice Cream's new Atlanta location over on Howell Mill Rd in Westside Provisions. Yum !!  btw – I hear they are opening a second location at Krog Street Market, in Inman Park, this summer.
Anyway, I tried two flavors – 'Goat Cheese with Red Cherries', which was very good and definitely gave me ideas for future dessert posts – and 'Buckeye State', peanut butter & dark chocolate, enough said.  Well, I haven't been able to get that Buckeye State out of my mind, so I decided to try to duplicate it in a milkshake.  I still haven't gotten the flavor exactly down pat (gosh, I might have to visit again for another taste test!), but what I did come up with is still pretty darn tasty.
Here's my version of a peanut butter milkshake with grated bittersweet chocolate and… wait for it… a dash of salt. (How unexpected!) This recipe serves one two. Add whipped cream and extra grated chocolate to turn this beverage  into a dessert.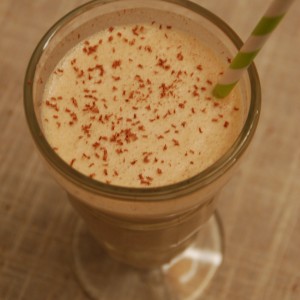 Ingredients
1 cup vanilla ice cream
3/4 cup whole milk
3 Tblsp creamy peanut butter
1 1/2 Tblsp grated bittersweet chocolate, plus extra for garnish
Large dash of salt
Whipped cream (optional) for garnish
Instructions
Put all ingredients in a blender and blend until smooth.
Taste and fix seasoning, if desired.
Top with optional whipped cream and grated chocolate.
Serve immediately
http://ascrumptiouslife.com/buckeye-milkshake/