I remember the first time I ate bruschetta. It was at Bud and Ally's in Seaside, Florida. We were on one of our impromptu getaways. You know, the weekend trip you decide to take on Thursday night. I had read about Seaside in Southern Living and just HAD to check it out. So off we went, without reservations – meaning not a care in the world AND literally, no hotel reservations. As we drove into Panama City we saw the signs – Welcome Spring Breakers – Ugh!!!  Not being  of the MTV generation we were completely oblivious to the fact that this was probably the worst weekend of the year for an impromptu trip to the Gulf Coast. We ended up driving clear to Fort Walton Beach to get a room.  But we did visit Seaside  and, back to my point way back when, dined at Bud and Ally's. I'm not sure what the rest of the meal entailed, but I do remember the bruschetta – so fresh and delicious. I thought " I'm going to make this at home" and I have for years now.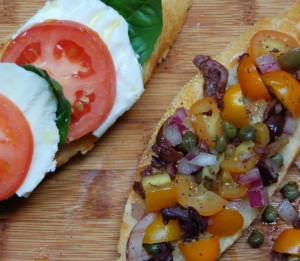 Actually, bruschetta, itself, is simply grilled bread rubbed with a garlic clove and drizzled with olive oil. But over the years it has become widely known as the grilled bread with yummy toppings that often include tomatoes, basil and olive oil.
I love that bruschetta is so versatile.  Sometimes I serve it already topped as a first course. When I serve it this way I slice a french baguette on a diagonal to create large slices.  Other times I serve it as part of an appetizer spread.  I slice the bread straight, creating smaller rounder slices and offer a bowl (or two) of toppings.
Here are a few topping ideas:
slices of tomato and brie, scallions and cracked black pepper (this is how I first ate bruschetta at Bud and Ally's.
caprese style – slices of tomato, mozzarella and basil leaves with a drizzle of olive oil
chopped tomatoes, olive, capers and red onion in a red wine vinegar vinaigrette (recipe below)
Ingredients

Loaf of french bread
2 garlic cloves- cut in half lengthwise
olive oil

Topping

1 cup grape tomatoes, large dice
2 Tblsp red onion, finely chopped
2 Tblsp chopped olives
1 Tblsp capers
1/2 Tblsp olive oil
1 tsp red wine vinegar
1/4 tsp dried itialian herbs
salt and pepper

Instructions

Slice the bread- diagonally for larger slices, straight cut for smaller rounds.
Grill or broil the bread until lightly toasted.
Rub the warm toasted bread slices with the garlic.
Drizzle the bread slices with olive oil.
Top as desired.

Topping

Combine the grape tomatoes, red onion, olives and capers in a small bowl.
In a separate bowl, stir the remaining ingredients to combine.
Add to the grape mixture and toss to coat the tomatoes.
Refrigerate the mixture until ready to serve.

http://ascrumptiouslife.com/bruschetta/