You know, I've shared a couple of brownie recipes with you, here on a scrumptious life, but I recently realized I hadn't shared this one.  This was my go-to brownie for years.  I made a batch, a few weeks ago, to take on vacation, and remembered why I like this recipe.  The results are fudgy, with a little crust, and rich but not too sweet. They are wonderful with ice cream and a great base for caramel brownies – but that's a other post.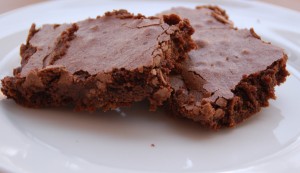 Ingredients
4 eggs
2 cups sugar
1/2 cup butter, melted
4 oz unsweeted chocolate, melted
1 tsp vanilla
1 cup all-purpose flour
1/2 tsp baking powder
1/2 tsp salt
1 cup chopped nuts (optional)
Instructions
Preheat oven to 350 degrees F.
Grease and flour a 9x13 baking dish.
Beat the eggs, sugar, butter, chocolate and vanilla together, using a stand mixer.
Combine the flour, baking powder and salt in a separate bowl.
Add the flour mixture in thirds to the wet ingredients, mixing slowly to combine after each addition.
Add the nuts (optional) to the batter and stir to combine.
Pour the batter into the prepared 9x13 dish.
Bake for 25 minutes.
Cool for 45 minutes and slice.
http://ascrumptiouslife.com/brownies/