As you may know, the World Cup starts in Brazil this week.  So, several of my posts this month will feature traditional Brazilian favorites. First things first…. I'm starting out with Caipirinha – Brazil's favorite cocktail. A mixture of lime, sugar and cachaca – a Brazilian rum-like liquor, made from sugar cane.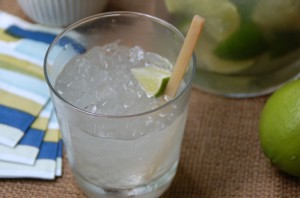 Cachaca is readily available in US liquor stores, so do make the effort to use it instead of rum – which would turn the drink into a caipirissima, not a caipirinha. Besides, the World Cup lasts a month- you'll have more than enough time to use it all up. Even if you're not into soccer, this may turn out to be a new summer favorite!
Just like a Mint Julep, this cocktail involves muddling in the glass.  Well, unless you've got a personal bartender, who wants to have to muddle every glass- especially after the first cocktail?!  Not me!  So after a little research, I decided to make a pitcher full, using double strength sugar syrup as the base, instead of granulated sugar.  I still muddled the limes- just a lot at one time and I used ice from Sonic – Yes,  from the Sonic Drive-In. Did you know you can buy bags of ice there? It 's the perfect size ice for this drink.
I garnished the caipirinhas with limes and sugar cane stirrers from melissa's, that I got from the goody table at Camp Blogaway. How perfect!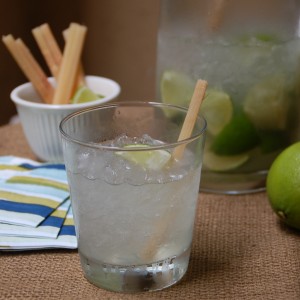 Brazil's favorite cocktail – Caipirinha
Ingredients
1 cup sugar
1/2 cup water
2 1/2 Limes, slice in half ( in the middle, not end to end) and cut each half into 8 wedges
10 oz Cachaca
Sonic Ice
Instructions
Sugar Syrup

Place the sugar and water in a saucepan on medium heat until the sugar melts, stirring often.
Set aside to cool and refrigerate until needed.

Caipirinhas

Place the limes in the bottom of a pitcher and use a muddler or wooden spoon to mash. Alternately, muddle the limes in batches in a glass and add to the pitcher.
Add 2 1/2 oz of sugar syrup and stir to combine.
Fill the pitcher 3/4 with Sonic Ice and add the Caracha. Stir to combine and serve immediately.
http://ascrumptiouslife.com/brazils-favorite-cocktail-caipirinha/