In honor of the World Cup in Brazil, this month I'm posting a few Brazilian recipes.  My first post was Caipirinhas – Brazil's favorite cocktail. Today's dish is a Brazilian Shrimp Stew (Moqueca De Camaroes) and I must tell you that this is one of the best dishes I've made in a long time!  So, I really hope you'll try it, whether you're watching the World cup – or not.
When you think of Brazil, you may immediately think of steak. But with over 7,000 miles of coastline, seafood is also a favorite in Brazil.  As I researched, I saw that seafood stews are quite common.  This dish is a delicious blend of shrimp, coconut milk, lime, and sriracha, based on a recipe from food.com. Of course I changed things up a bit, as I usually do.  The major change is using palm oil, rather than the original olive oil, for more authentic flavor. Palm oil is widely used in Brazilian, West African, and Carribean cooking.  It is a thick red paste that melts into a nutty flavored oil, as it's heated. I think it makes the dish!  In Atlanta, you can find palm oil at the Buford Highway Farmer's Market.  I also played around with the amount of sriracha sauce – I always recommend starting with half the suggested amount  of sriracha, wasabi and other spicy ingredients and add as needed.  You can't take away the heat, if it's too much for your palate and you can always add more!
Serve this stew in individual bowls, over rice.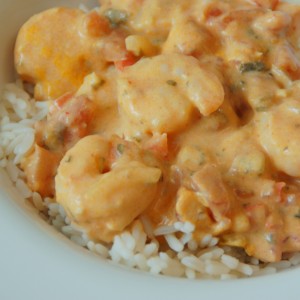 Brazilian Shrimp Stew (Moqueca De Camarones)
Ingredients
1/4 cup palm oil
1/3 cup sweet onion, very thinly sliced or diced
1/4 cup red peppers, finely diced
1 garlic clove, minced
1- 14 oz can diced tomatoes, save juice
2 Tblsp green chiles, diced
1 - 1 1/2 lbs raw shrimp,peeled and deveined
2 Tblsp cilantro paste (or 1/4 cup fresh cilantro, chopped)
1 cup coconut milk
1 1/2 Tblsp sriracha sauce
2 Tblsp fresh lime juice
1/2 tsp salt
1/2 tsp pepper
Cilantro for garnish
Instructions
Heat oil in a medium saucepan
Saute onions for several minutes until tranlucent
Add red pepper and garlic and saute for several minutes more.
Add the can of tomatoes (including juice), green chiles, shrimp and cilantro paste.(For a thicker sauce do not add all the tomato juice.) Simmer until shrimp are opaque, stirring often.
Add coconut milk and sriracha and cook until heated through - do not boil.
Add lime juice and salt & pepper to taste. Stir to combine.
Serve hot, garnished with cilantro.
http://ascrumptiouslife.com/brazilian-shrimp-stew/