Today's the last of three posts featuring Brazilian dishes – perfect for serving at a World Cup viewing party.  I've already shared Ciapirinha, Brazil's favorite Cocktail and Brazilian Shrimp Stew.  Today it's time for dessert.  Easy, rich, chocolatey, Brigadeiro has three ingredients – sweetened condensed milk, butter and cocoa.  You simply heat them together until the mixture thickens – cool – roll into balls and roll the balls in assorted toppings.  Easy right?!  The results are like soft fudge balls.  A perfect little pop of chocolatey goodness and a great finish to our Brazilian meal.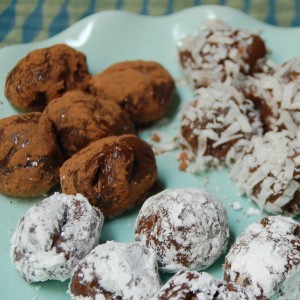 As easy as the recipe is, the thickening of the mixture requires patience.  You'll be stirring, with a rubber spatula for ten minutes.  Exactly at the 10 minute mark, just as you're thinking you did something wrong, the mixture suddenly thickens- believe me you'll know when this happens – so this is not the time for multi tasking.
Once the mixture has cooled, roll it into  balls. Then, roll the balls into assorted toppings. I used coconut, cocoa and confectioners sugar.  Chopped nuts are also a popular option.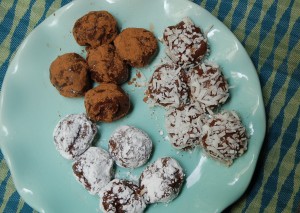 Brazilian Dessert – Brigadeiro
Ingredients
1-14 oz can sweetened condensed milk
1 Tblsp unsweetened cocoa powder
1 Tblsp unsalted butter
Toppings: Chopped nuts, grated coconut, confectioners sugar, cocoa
Instructions
Put the sweetened condensed milk, butter and cocoa in a medium saucepan on medium heat.
Cook, stirring constantly, until mixture thickens - 10 minutes.
Remove the saucepan from the heat. Pour the mixture into a 8x8 dish and refrigerate to cool.
When cool enough to handle, roll the mixture into balls (approx 20).
Roll the balls, lightly, in toppings.
Serve immediately or chill until served.
http://ascrumptiouslife.com/brazilian-dessert-brigadeiro/