Here's a quick, easy recipe for blueberry muffins, to get your holiday weekend off to a great start. It takes no time to put together and you don't' even need a mixer – in fact it's preferable to make these muffins the old-fashioned way , with a large bowl and a wooden spoon, so you don't get blue batter by overbeating.  The recipe calls for frozen blueberries, which I find makes it easier to mix the batter – and makes it an anytime treat. I look out for good deals on blueberries, when the're in season.  I bring them home, freeze them on a cookie sheet and pop the individually frozen berries in a container.  Since they're not frozen in a clump it's easy to grab a handful to add to a dish.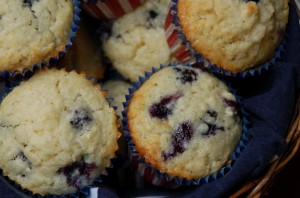 Blueberry Muffins (makes 1 dozen muffins)
Ingredients:
1 ¾ cups all-purpose flour
½ cup sugar
3 tsp baking powder
½ tsp salt
1 cup frozen blueberries
1 cup milk
½ cup melted butter, slightly cooled
1 egg, slightly beaten
Instructions:
Preheat oven to 375 degrees F.
Line a muffin pan with muffin liners
Place the flour, sugar, baking powder and salt in a large bowl and stir to combine.
Add the blueberries and stir lightly, making sure the blueberries are 'coated' with the flour mixture.
 Add the milk, egg and butter to the dry ingredients and stir until just moistened. (Be gentle, you don't want blue batter)
Spoon the batter into the muffins cups.
Bake for 20-25 minutes.  Test with a toothpick after 20 minutes.
Remove muffins from the oven and  cool on a wire rack.
Recipe from Muffin Mania