A few weeks ago I joined other members of the Atlanta Food Bloggers Alliance and other bloggers at a tasting session at Blue Ridge Grill, here in Atlanta.  I'd been to BRG in the past- but I'll be honest, it had been years.  My next visit will not take so long.
Owned by the same team as Bones and OK Cafe – classics in the Atlanta restaurant scene, BRG has been serving Southern cuisine for over 20 years.  A recent change in chef has prompted an updating of the menu – and I was delighted to taste some of their new ideas. Soft spoken Chef Joe Brown is no stranger to Atlanta – he learned at Joel and Seegers –  need I say more?  After stints in California and Hawaii , he is back in Atlanta and BRG is lucky to have him. His focus on fresh and sustainable produce is evident.  BRG is already sourcing produce from Serenby Farms and other local organic farms.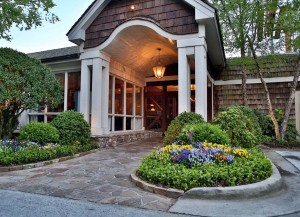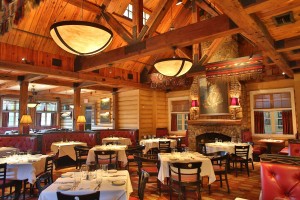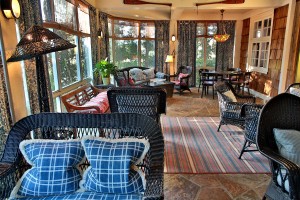 Walking into Blue Ridge Grill is like going on a getaway to an inn in the North Georgia Mountains. The warm wood interior of the dining room and wicker filled porch are comfortable and inviting.  We sat on the porch and enjoyed tasting of several appetizers,  entre's, sides, wines and dessert.  So what were my favorites?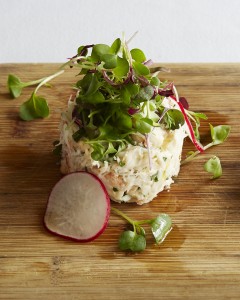 My favorite appetizer was the crab salad topped with microgreens – served on a long board with an orange and radish salad. Delicate and fresh – delicious.
We were then treated to Springer chicken a and some perfectly cooked scallops.  One attendees said the scallops had changed his mind of scallops!  The chef shared that he only cooks them on one side, flipping them for just a second at the end.  I'm going try that method next time I cook scallops.
When you dine at Blue Ridge Grill, you must have the corn souffle!  Trust me on this!  Lucious , sweet,- I could have eaten it for dessert. It's a do not miss at BRG.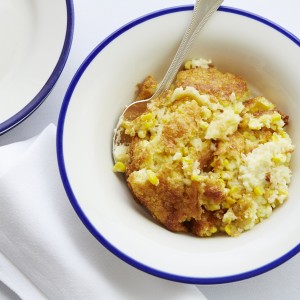 We ended our evening with a selection of cookies, all of which were scrumptious. Thank goodness the gluten free blogger at the next table wasn't eating hers – we polished them off for her – thanks Jennifer!
Bottom Line : Blue Ridge Grill offers a lovely modern southern dining experience. Choose it the next time you need a getaway – in the heart of Buckhead. They are open for Lunch( M-F), Dinner and Sunday Brunch.
Disclaimer: The meal was free to all blogger attendees.  All opinions are my own.  All photos were supplied by BRG.