What a bummer – I just realized I forgot to post this !!! and I'm fessing up because you'll figure it out as soon as you start reading.  Still, it's a great recipe I wanted to share with you and it's not just good during basketball season….. hey, the Kentucky Derby is only a couple of weeks away! Actually, this Blue Cheese and Bacon Dip can be dressed up or down – I've served it for sporting events and Christmas dinner.
Here's the original post………………………..
I love March Madness !!
College basketball has been a part of my life since I attended Syracuse University and was a member of the 'Sour Sitrus Society ' pep band – great name, huh!  We traveled all over (in buses) giving up weekends, vacations and sleep to support our team.  Those trips are some of my favorite college memories.
This season I've been able to watch  alot of the games with fellow Atlanta area Syracuse Alumns, including my brother.  Since I've been watching the games with them, I haven't been watching many of the games at home.  But since my beloved Orangemen lost to Ohio State last weekend, I'll be watching the Final Four at home.  I must say here, however, it was a GREAT season despite some adversity — We were either #1 or #2 most of the season !!
This year's tournament has been one wild fun trip….  Lots of upsets – which makes for fun (and a badly damaged bracket after the first weekend). Fortunately, I still have two teams  in the final four – but my chances are slim to impossible that I'll win- so now I'll be watching  just for fun (and the snacks).
I don' know everything I'll be serving to watch the games, as I have a busy day, but I do know my Blue Cheese and Bacon Dip will be on the menu.  It's another favorite from 'Stop and Smell the Rosemary. I mean blue cheese and bacon – together –  how bad could that be??!!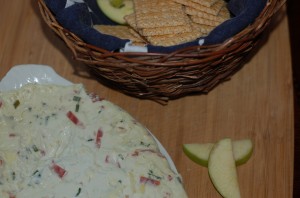 Blue Cheese and Bacon Dip (makes 2 cups)
Ingredients:
8 oz cream cheese, softened
1/4 cup half & half
4 oz blue cheese, crumbled (1 cup)
7 slices bacon, cooked crisp (I've substituted pancetta wih tasty results – and in a pinch, the equivalent in jarred real bacon pieces)
2 cloves garlic, minced
2 Tblsp chopped chives
3 Tblsp chopped smoked almonds (optional)
Instructions:
Preheat oven to 350 degrees F
Beat cream cheese until smooth.
Add half & half and combine.
Stir in bacon pieces, blue cheese , garlic and chives.
Put mixture into a 2 cup dish and cover with foil. (You can refrigerate at this stage. Bring to room temperature before baking)
Bake until bubbly ( 30 minutes).
Sprinkle with almonds.
You can serve it with crackers, pita chips, french bread slices and the traditional celery and carrots – but I also love this with apple slices.